Anfield pays tribute to 96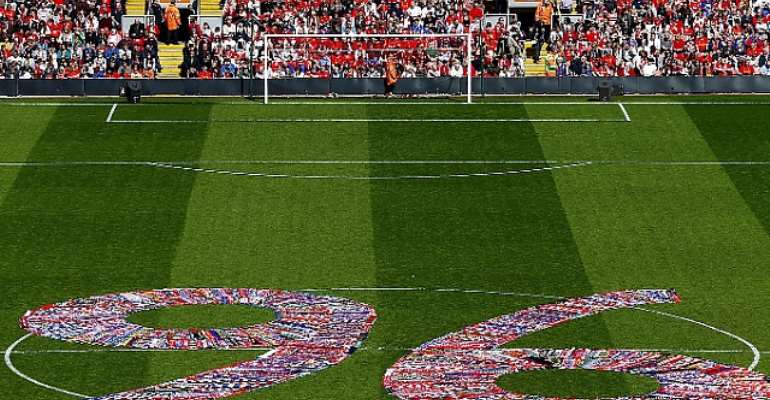 Brendan Rodgers and Roberto Martinez led the tributes as thousands gathered at Anfield to remember the 96 Liverpool supporters who died at Hillsborough.
Liverpool players old and new joined a crowd of around 26,000 to honour the memory of those who lost their lives at an FA Cup semi-final 25 years ago.
Liverpool and Everton supporters sat alongside each other as the city came together to hear Martinez and counterpart Rodgers address the crowd.
Speaking first, Everton manager Martinez said: "I was only 15 in April 1989. I was a football mad kid from a football mad family like many of you. We heard the news and as a family, we couldn't believe the pain and horror of the families receiving the news that their loved ones would not be coming home from a football match.
"How can anyone die watching the game you love? That isn't right. That isn't fair. What happened afterwards wasn't right or fair either. To have to fight for the good names of the ones you lost was appalling.
"As my chairman said a year ago, the authorities took on the wrong city if they thought they were going to get away with that."
Rodgers said: "I just want to say thank you to Roberto for coming over. It was a wonderful speech and no matter what the clubs are doing, it shows that this city is very much together both in people and in football.
"First and foremost, I want to thank the Hillsborough families for giving me the privilege of speaking here today. I feel very humbled and honoured to be in your company.
"As manager of Liverpool I'm surrounded every day by inspiration. Every day I walk in past the statue of Bill Shankly and the European Cup. We train on the same pitches graced by the likes of St John, Keegan, Toshack, Dalglish, Rush and Barnes. I could go on forever.
"Without doubt, the single biggest source of inspiration for me is every matchday here at Anfield when I arrive and see the Hillsborough memorial. 96 names that were loved and cherished and went all too soon.
"Mothers and fathers, brothers and sisters, sons and daughters, friends and fellow supporters. You've all stood for 25 years together to honour and fight for the 96 people we lost. Your courage, fortitude, resilience and dignity is what inspires me.
"In becoming the manager of such a great club, you are privileged to follow in the footsteps of great men. Although you aspire to live up to them one day, you know that's impossible. One such man is with us today and that's Kenny Dalglish."
A standing ovation for the Scot followed before Rodgers added: "Liverpool was so blessed to have such a man to lead the club in times of such darkness. Although he seeks no credit, without doubt his help and support both at the time and afterwards has been critical to the family and the survivors.
"The leadership, the human dignity and courage shown by Kenny at that time was more inspiring than any goal scored or trophy won. I think it serves as an example to us all.
"Today is significant because of the 25th anniversary. Occasions like this remind us how important it is to honour the people that we lost. For us, this club and the city of Liverpool will carry the memory every day of the 96 people, their families and survivors. You matter to us and that inspires us to play.
"Thank you for asking me here. I really do feel inadequate in your company. To be asked to do a reading at such a significant time is a huge honour and I'm humbled. Thank you for the inspiration you give to us all in the most trying circumstances imaginable.
"We will always strive to honour you, the families, and the 96 people we lost. You'll never walk alone."