How To Lose Money Fast In Fish Farming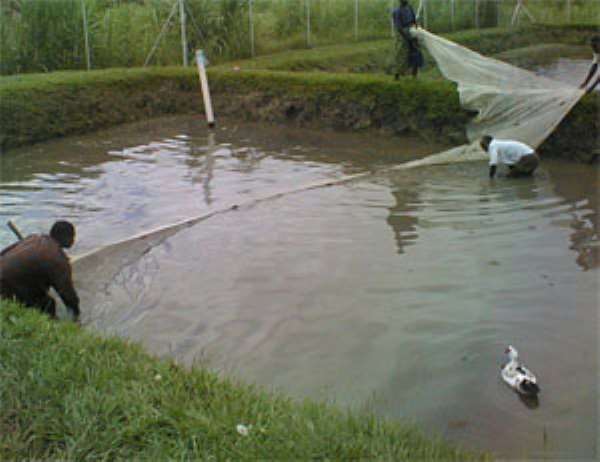 There is a widespread and mistaken view that it is easy to make money in fish farming. Do you really believe that it's possible to double your money in as little as six to 12 months? Unfortunately, this is just not possible, and the current rush to make money from tilapia will end with many people suffering serious disappointment.
It is a hard lesson from history that every new development in business tends to be accompanied by reckless investment. Fish farming has developed rapidly in Ghana and people are tempted by dreams of huge profits.
The results of scams, bubbles and recklessness include the panic of 1893 in the USA caused by railroad overbuilding and the 17 th century tulip mania in Holland. At the peak of that craze, in March 1637, some single tulip bulbs sold for more than ten times the annual income of a skilled craftsman.
More recently, many Europeans were attracted by the potential profits of ostrich farming, but did not recognise the risks or were simply conned out of their money. The latest twist in this cautionary tale concerns tilapia in Ghana. Tilapia fish farming will never be a 'get rich quick' option.
We look at five ways you can lose money fast in fish farming. It's really very easy, so if you want to join in this increasingly popular activity of losing money fast, this is what to do.
1.    Give your money away. To phrase this slightly differently, you give your money to someone who promises you amazing returns, but fails to mention all the risks that are inherent in fish farming. Unfortunately, it is all too easy to get things wrong as fish are very susceptible to poor water quality, rough handling, sub-standard feed and unskilled staff. Even if the person promising the high returns is well-intentioned, it is unlikely that they have the experience required to deliver anything like the returns they promise. However, they will be very happy to spend your money.
2.    Don't bother to learn anything. Fish-farming is a science and requires an understanding of genetics and the importance of breeding to develop fast-growing stock. The feed conversion ratio is critical in fish farming and much better returns will be achieved with stock that are able to quickly convert feed into body-mass. However, the naive investor assumes that 'big fingerlings' are the secret to 'big fish' six months later. This is not the case, as 2g fingerlings with 'good genetics' can quickly overtake others that are twice the size. Obviously, to lose money quickly, ignore the established, accredited fingerling suppliers and buy stock from anyone who offers fat fingerlings and the promise that they will make you rich.
3.    Ignore the mathematics. Following on from point two, the enthusiastic amateur fails to budget effectively and economizes on things that are really important. High-quality feed is essential, particularly when the fish are at the fingerling stage. However, feed is also expensive and easily sold by unscrupulous staff. It is therefore vital to record how much feed is being used and keep records to record progress. Calculations are required to support all aspects of the operation and to produce budgets for the full production cycle. You delegate this responsibility at your own risk!  So to lose money fast, don't monitor the data.
4.    Trust your staff. You may have a strong belief in the goodness of human nature and assume that the people looking after your fish are 100% honest and conscientious in their approach. Experience suggests that this is often not the case. The fish must be given the correct amount of feed and at the right time. The person doing the feeding must be aware of how actively the fish are feeding and make adjustments. They need to report on water quality and quickly mention any problems, particularly any issues to do with the nets, which are a big concern for anyone using cages in a lake. The hard reality is that all staff must be properly supervised and everything needs to be closely monitored.
5.    Forget Security. This is one of the best ways to lose money and it is very easy to do. You simply invest a large amount of money feeding your fish for 5 – 6 months so they start to look like gold bars in the water. You may have a watchman or feed team who have relatives, friends or business partners who would like the fish. The result is that your stock disappears. It may happen slowly, with just a few fish being taken each day, or it can happen suddenly, with everything being taken in one night. This is organized crime and it can hit even the biggest farm. Many of the larger operations now have armed guards and use professional security firms to reduce the risk.
Now that you understand five of the biggest problems you face in fish farming, you may decide that you still want to give this a go. The best advice is to do plenty of research, so you really understand what you are doing. It's also a good idea to deal with an established fingerling supplier that can give you technical support and act as a business partner.
The fingerling supplier should be willing to replace any losses that occur up to five days after transfer to your farm (as this is usually to do with problems with the transfer). They will want to see evidence of the mortality, as it is also possible that fingerlings have been stolen (or simply escaped through poorly maintained cages).  After five days, any mortality will be caused by problems at your end, including issues with the water quality, feeding arrangements, or the nets.
Finally, you also need to plan how best to market the fish. There is a lot to think about, and we wish you good luck with your new business venture!
This article was contributed by the Management Team at Crystal Lake Fish - an established supplier of fast-growing fingerlings!
Contact  [email protected] mailto:[email protected]