Water Crisis To Deepen In Accra, Tema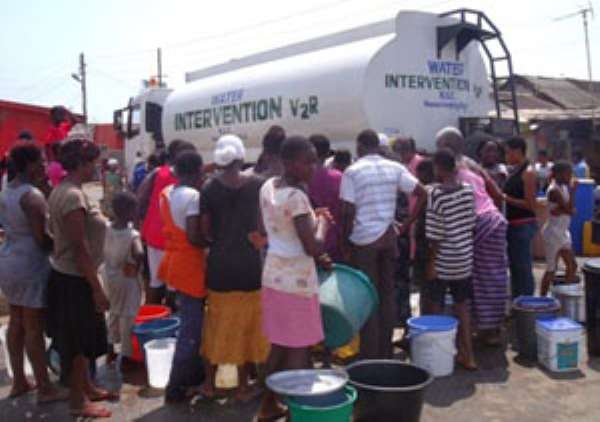 By Samuel Boadi
Residents in some communities in Accra and Tema are to experience tough water rationing by the Ghana Water Company Limited (GWCL) between Monday, 24 February and Thursday, 27 th February, 2014 and probably beyond.
According to GWCL, it will shut down the entire Kpong Water Treatment Plant to allow contractors executing the Kpong Intake and ATMA Rurals Rehabilitation and Expansion Projects to undertake critical pipeline interconnections.
The projects are expected to be completed in the next three months.
In a release issued yesterday in Accra and signed by Michael Agyeman, Chief Manager, PR, the company said the normal rationing programme in the Accra and Tema had been revised to ensure that prior to the period of the shutdown, some water could be stored in the Tema Terminal reservoir at Ashaiman to serve Tema, which would be hardest hit.
'Furthermore, GWCL has mobilised its own tankers and hired additional ones to deliver water to schools, hospitals and other essential services and institutions in the affected communities.
During the period, there would be interruption of water supply to Tema, Ashaiman, Lashibi, Michel Camp, Afienya, Prampram, Ningo, Somanya, Dodowa, Akuapim, Ridge Areas, Adenta, Madina, Ashalley-Botwe, Adjiringanor, East legon, Legon, Ashongman, Kwabenya, Taifa, Dome, Achimota and surrounding areas.
Other areas to be affected are Abelempke, Dzorwulu, Roman Ridge, Airport Residential Area, 37, Kanda, Nima, Maamobi, Pig Farm, Kotobaabi, Kokomlemle, Cantonments, Ridge, Osu, La, Labone, Burma Camp, Teshie, Nungua, Baatsona, Spintex Road and surrounding areas.
In view of the afore-stated, GWCL has advised people living in the affected communities to store enough water in the coming days ahead of the shutdown of the plant.
It gave assurance that the scheduled work would help complete the projects at Kpong by mid-2014 which will improve water supply to the affected communities.
'When completed, the ATMA Rurals Rehabilitation project will produce an additional nine million gallons of water per day to improve water supply to Michel Camp, Afienya, Kpone, Prampram, Old Ningo, New Ningo, Ayitepa, Kponguno, Omankope, Kodiabe, Doyumu, Agomeda, Adumanya, Menyum, Dodowa, Odese, Nganompian, Bawaleshie, Oyibi, Amanfro, Letehman, Ashiyie, Frafraha, Abominya, Ayikuma, Abokobi, Pantang and Ayi Mensah, among others.
Presently, demand for water in Greater Accra metropolitan area stands at 150 million gallons a day and therefore with a total water supply of 93 million gallons, there is a shortfall or deficit of 57 million gallons a day.
It added that on completion, the Kpong Intake Rehabilitation project, will improve efficiency owing to the replacement of all existing pumps and the installation of a 3.3 million gallon a day treatment plant.