Starbow Rewards Customers On Val's Day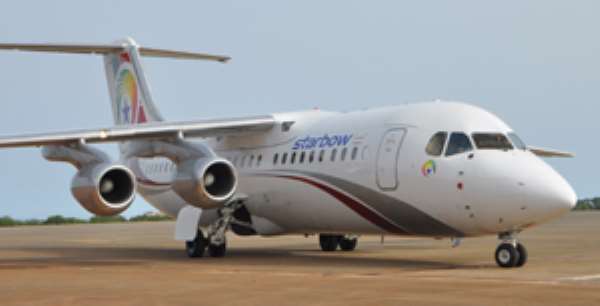 Starbow Airlines, a domestic operator in Ghana, has announced that it would reward some of its loyal and frequent customers on Valentine's Day, February 14.
Selected customers would have the opportunity to spend a night with their partners at the Golden Tulip (Accra & Kumasi), Planters Lodge in Takoradi or the Mariam Hotel in Tamale.
A statement issued to GNA on Monday said six high value customers would be selected for travel and night accommodation at any of the hotels.
Three customers, with their partners, from Accra would be flown to and accommodated for the night at the participating hotel in any of Starbow's three other destinations: Kumasi, Takoradi and Tamale, while another three customers, with their partners, from those three destinations, would also be flown and accommodated in the participating hotel in Accra.
'In addition, Starbow will offer free open tickets for the rest of our high value customers by order of priority for the Valentine's occasion (5 free tickets only without accommodation per destination, total 20),' the statement noted, adding that the tickets will be open only for 15.
GNA