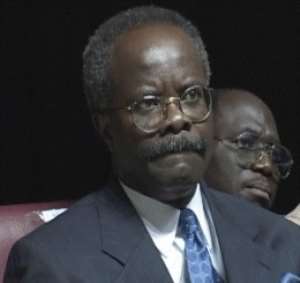 .... if crude price hits 40-dollar mark - Ndoum .... Govt Spends ¢351.5bn Subsidy On Oil Products Accra, March 25, GNA - Prices of petroleum products would be increased if the current crude oil price of between 25 dollars and 30 dollars a barrel rose to 40 dollars, Energy Minister Dr Paa Kwesi Ndoum said on Thursday. "Should this unfortunate situation occur, then the National Petroleum Tender Board (NPTB) will have no choice, but to advise the oil marketing companies about what should be done," Dr Ndoum said, adding the that any action that would be taken would be within the context of deregulation. Dr Ndoum was speaking in Accra when he took his turn at the weekly press encounter organised by the Ministry of Information, dubbed: "Meet the Press." He said a survey of comparative prices in the West Africa Sub-Region for petroleum products indicated that Ghana had the lowest price for diesel, petrol and kerosene. Dr Ndoum said while Ghana sold diesel at 17,500 cedis per gallon, Togo sold it at an equivalent of 22,670 cedis; Burkina Faso at 27,443 cedis and La Cote d'Ivoire at 27, 841 cedis. He said price differentials of petroleum products in Ghana, and neighbouring countries was an incentive for smuggling petroleum products, especially diesel to the neighbouring countries.
He stated that a tanker load of diesel smuggled to any of the neighbouring countries would generate between 31 million cedis and 62 million cedis windfall profit.
Dr Ndoum said the increase of international crude oil price above 32 dollars a barrel against an exchange rate of 9,000 cedis to the dollar, coupled with an excessive consumption of diesel about 52 per cent, gave compelling reason to look closely at the impact of its price on the nation's social and economic situation.
He said ex-refinery prices are reviewed monthly by the NPTB to ensure full recovery consistent with the import parity landed cost, and the current trend indicated the need to support Tema Oil Refinery TOR) with fund from Government in excess of 70 billion cedis per month.
The Energy Minister said Government's support to TOR from July 2003, to January 2004 was more than 351.5 billion cedis.
He announced that the Energy Commission, together with the Customs, Excise and Preventive Service (CEPS) had been charged to investigate the real situation of petroleum smuggling on the ground.
The Commission has among other measures, been charged to duly license companies transporting petroleum products through Ghana to any of the Economic Community of West African States (ECOWAS) countries.
On electricity, Dr Ndoum said Government had secured 15 million dollars from the World Bank to apply to projects to enhance electricity service quality within the next year.
He said Government hoped to secure an additional 30 million dollars this year to improve the short-term needs of the electricity network, and enhance power supply to Accra, Tema and Kumasi.
He said the total amount needed for the rehabilitation was about 230 million dollars in the long term, but the funds were not forthcoming because of unacceptable conditions from would be creditors.
Dr Ndoum said that the present disruptions in electricity supply would take some time to solve and requested the Management of the Electricity Company of Ghana to intensify their preventive maintenance, monitoring, and fault rectification activities to ensure that the disruptions were minimized.
The ECG, he said, must also provide advance warning in case of anticipated disruptions in power supply.