Vodafone facilitates KNUST communication with MNotify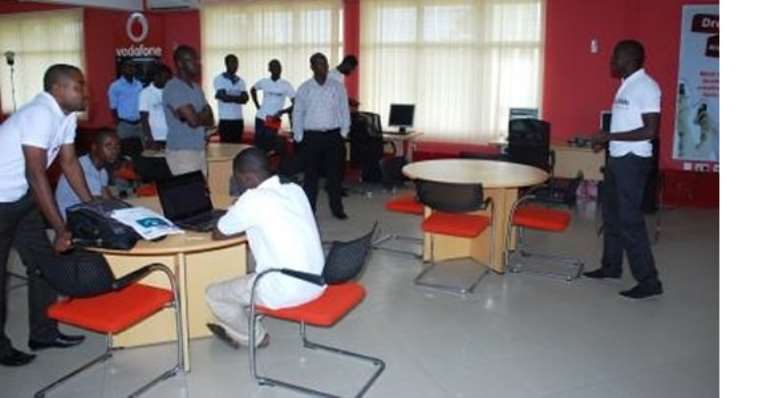 A group of App developers at Kwame Nkrumah University of Science and Technology (KNUST)and members of the Vodafone Tech Hub, Ghana's first technology and innovation centre, have built a web-based SMS notification platform to assist the University authorities communicate with students.
Known as M-notify, the platform allows the administrators of the University to send targeted messages to the entire student base and various groups using unique sender ID. Information on registration as well as critical and urgent security alerts are all now communicated to students using M-notify.
Following poor attendance to one of their Computer Science meetings, Godwin Amefia and Ronald Tagoe, both third year students identified communication gaps and thought about the web-based SMS notification platform as a solution.
Commenting on the application, the Dean of Students at the KNUST, Dr. Kofi Owusu-Daakuwas was grateful to Vodafone Ghana for supporting the 'Paperless Communication' in the University.
He explained, "sharing information with students is now more effective and cheaper; as we are able to reach the entire students base via SMS in less than five minutes. We are also able to share information quickly with specific student groupings in Departments, Faculties and Colleges about meetings, changes in calendar events, venues etc. This system has virtually come to replace the era of paper advertisements which had scarred, defaced and littered our grounds."
The Vice Chancellor of KNUST, Prof W.O. Ellis, is particularly proud the innovative solution was developed by students of KNUST; for him that is what a University of Science & Technology should be all about.  "In line with our innovative vision, Vodafone is providing each student access to 3600Mb data, 2400 minutes Vodafone to Vodafone calls and 960 text messages in a year for less than 10 pesewas a day.  It should improve security as students can support each other in emergency situations; and also call security hotlines."
The Head of Strategy and Innovation for Vodafone Ghana, Julius Owusu-Kyerematen is hopeful the unique partnership between Vodafone and KNUST will continue to develop to the mutual advantage of both institutions. "The Vodafone Tech Hub on KNUST campus provides a unique environment where like-minded and focused technology entrepreneurs meet, network and collaborate. It is a win-win for both KNUST and Vodafone Ghana because we are both passionate about innovation and creativity," he emphasised.
Vodafone Ghana furnished the Tech Hub and provided the equipment including servers, computers, smart phones and internet connectivity about a year ago, giving students a chance to translate their knowledge from class into tangible results.