Golden Star, Vivo Energy Assist Communities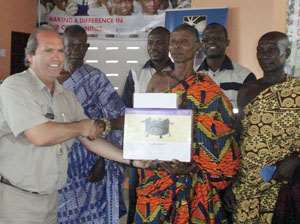 Gary Visser of Golden Star (Left) making a presentation to representatives of the beneficiary communities
To this end, the two companies have collaborated to embark on 'Energy for Education Project' and 'Breathing Space Project' aimed at enhancing livelihood and contributing to the reduction of carbon footprint in their catchment areas.
Under the project, the two companies have provided 200 solar lamps, which are energy efficient, to some selected schools in four communities that are not connected to the national grid to help the pupils in those areas study at home after normal school hours.
The four beneficiary communities included Brakwaline, Juabeng, Jukwa and Mrekete, all in the Prestea-Huni Valley district of the Western region.
Golden Star and Vivo Energy also provided some fuel-efficient charcoal stoves to some women in the selected communities under the projects.
Speaking at a brief ceremony to officially hand over the items to the selected communities, Augustine Osei-Bonsu, Managing Director of Vivo Energy, noted that his outfit found it necessary to support innovative ideas that impacted positively on the livelihoods of its neighbours.
'Many households rely on kerosene lanterns and candles for light in managing their energy challenge with far-reaching implication to their health and safety', he added.
He explained that the projects were to provide sustainable and inexpensive energy sources to the inhabitants.
'Beyond the direct health and economic benefits, women and their children will now spend less time looking for firewood. This will translate into the women spending quality time with their children to ensure they do their home work from school,' he stressed.
Gary Visser of Golden Star indicated that his outfit had come up with lots of several programmes aimed at improving the living standards of people in the gold mining company's catchment communities.
He revealed that Golden Star is the only mining company in Ghana that has been contributing two dollars per every ounce of Gold mined to the development of the communities in their operational areas.
Robert Gyamfi, Manager, Community Relations and Social Responsibility of Golden Star Resources Limited, appealed to the people to continue to live in harmony with the company for their mutual benefit.
The Robert Wisdom Cudjoe, District Chief Executive of Prestea-Hunni Valley, called on the people not to always depend on the mining companies and the assemblies for projects but strive to initiate certain projects on their own.
 From Emmanuel Opoku, Bogoso