UniCredit Opens Takoradi Branch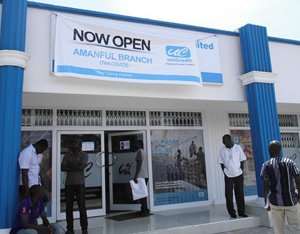 The Takoradi branch of Unicredit
According to him, the long-term objective of the company is to help customers to improve their lives through wealth creation.
Mr. Ameyaw stated this at the opening of the 10 th branch of uniCredit Ghana Limited located at Amanful, a suburb of Takoradi.
UniCredit, formerly Kantamanto Savings and Loans Company Limited, was licensed by the Bank of Ghana (BoG) in 1995 to operate as a non-bank financial institution under the Financial Institution (Non-Banking ) Law, 1993 (PNDC L 328).
He explained that 'the deposit facilities include Current Account, Fixed Deposit Account, Susu Deposit Account, Locked-Box Savings Account, U-Kid Account and Own a Vehicle Savings Account.'
He noted that the company had recorded significant improvement in its operations over the past five years.
'The number of depositors which stood at 41,150 in 2009 currently stands at 141,000, registering 242.6 per cent growth. Outstanding deposits have also increased from GH¢18.3 million in 2009 to the current level of GH¢113.7 million,' he indicated.
Stephen Senyo Sapati, Assistant Director, Banking Supervision Department of the Bank of Ghana revealed that uniCredit's paid-up capital as at the end of August 2013 stood at GH¢8.29 million with shareholders' funds reaching GH¢12.46 million.
He said the financial institution exceeded its minimum statutory capital requirement for savings and loans companies which helped it to withstand unanticipated losses.
From Emmanuel Opoku, Takoradi