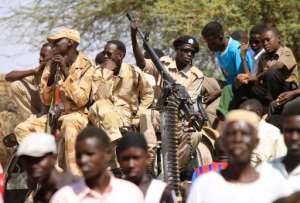 Sudanese soldiers keep watch as they sit next to civilians in the Shangil Tobaya area for displaced people in North Darfur state, on June 18, 2013. By Ashraf Shazly (AFP/File)
Khartoum (AFP) - Sudanese government forces and rebels have clashed around a key town in North Darfur state, both sides said on Saturday.
Rebels from the Sudan Liberation Army (SLA) faction headed by Abdel Wahid Mohammed al-Nur targeted a government patrol two kilometres (about one mile) from Mellit, the official SUNA news agency quoted Sudan Armed Forces spokesman Sawarmi Khaled Saad as saying.
Rebels captured and fled with one vehicle from the government patrol but five insurgents were killed, Saad said.
Mellit is about 80 kilometres north of El Fasher, the state capital.
A statement from SLA-Wahid said the rebels clashed with "a government militia" on Friday, killing 15 while two insurgents died.
It said the rebels entered Mellit before withdrawing on Saturday.
Nur and other non-Arab rebels have been fighting for 10 years in Darfur, seeking an end to what they call the domination of Sudan's power and wealth by Arab elites.
In response, government-backed Janjaweed militia shocked the world with atrocities against civilians.
While clashes between the rebels and government continue in Darfur, an upsurge of violence in the western region this year is mainly due to inter-ethnic fighting, much of it Arab against Arab.
Hundreds have been killed and hundreds of thousands displaced since January.
The cash-starved government can no longer control its former Arab tribal allies, and violent competition for resources has intensified, analysts say.=