Bombs kill two in Egypt's Sinai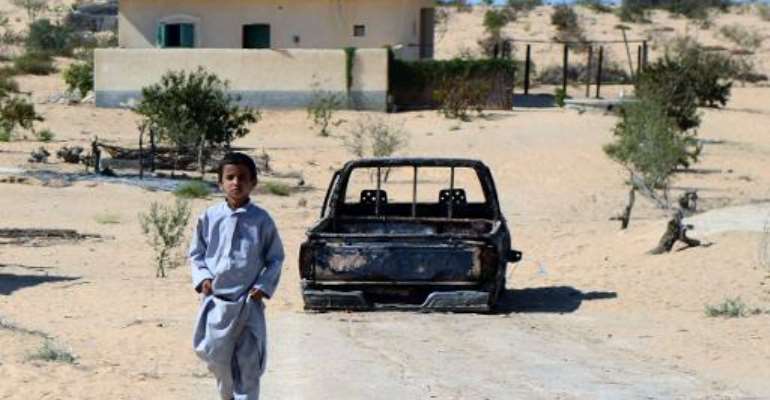 Cairo (AFP) - Militants set off four roadside bombs targeting a security convoy in Egypt's Sinai Peninsula on Tuesday, killing two people and wounding five, the army said.
The convoy was travelling from Rafah, on the Gaza border, towards the North Sinai provincial capital El-Arish further west, when the bombers struck.
Militants then traded fire with security forces before fleeing, army spokesman Colonel Ahmed Ali said on his official Facebook page.
One member of the security forces and a civilian were killed, and five security personnel wounded, Ali said.
The army has poured troops and armour into the Sinai to try to crush militant activity, which has surged since it overthrew Islamist president Mohamed Morsi on July 3.
A subsequent crackdown on Islamists has resulted in more than 1,000 people being killed and more than 2,000 arrested nationwide.
In the Sinai, dozens of soldiers and policemen have been killed in near daily attacks.
Since Morsi's ouster, attacks have also targeted Egypt's interior minister as well as Christian homes and churches.
An Al-Qaeda-inspired group in the Sinai, Ansar Beit al-Maqdis, said it was responsible for a car bombing on Saturday in the Suez Canal city of Ismailiya that wounded six soldiers and a failed attempt to assassinate the interior minister last month.
The military says it has killed or captured dozens of Islamist militants, some of whom proclaim allegiance to Al-Qaeda.