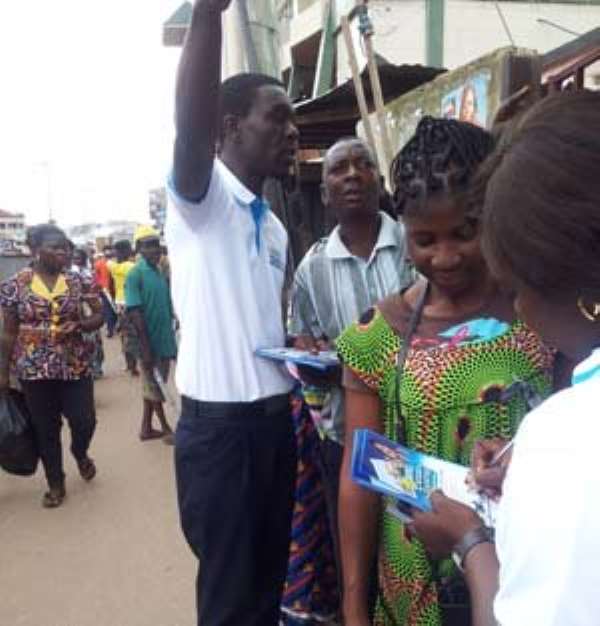 some HFC staff educating members of the public
HFC Bank has embarked on a campaign to sensitize the Ghanaian public about invaluable benefits of savings.
The campaign, which began with the launch of the Bank's 4th 'Homesave Promotion' last month, is yielding positive results as a good number of potential customers continue to register to identify with the Bank and save towards their dream home.
Since the launch of the Homesave promotion, HFC Bank, in collaboration with the Information Services Department, has held two separate events in major market centres in Accra and Kumasi, where people of all walks of life were educated on the essence of developing a good savings habit, the purpose of the Homesave promotion, as well as rewards available to participants.
The HFC Bank Homesave Promotion is meant to reward loyal customers of the Bank, as well as inculcate a good savings habit into Ghanaians.
In 2011, the Bank gave three loyal customers 2-bedroom house each while 10 others received laptops, home theatre systems, beach umbrellas, among other items, in the third HFC Bank Homesave Promotion.
This year, HFC Bank will offer 2-bedroom houses to two loyal customers from Kuottam Palm Valley Estate at Oyarifa in Accra.
One hundred customers also stand the chance of winning fantastic prizes, including motorbikes, LED flat-screen TVs, home theatre systems and bicycles.
The first grand draw of the 4th HFC Bank Homesave Promo will be held in Accra in January 2014.
Meanwhile, the sensitization events will continue in other regional capitals.
A business desk report