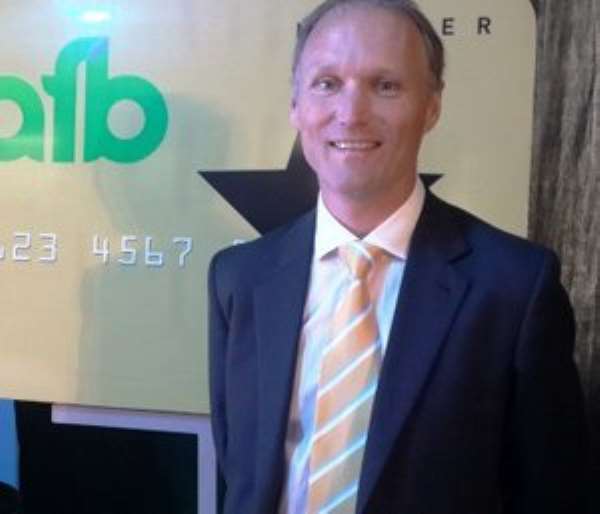 Karl Westvig
AFB Ghana, a consumer finance company, which was previously known as AFSL, has noted it is committed to scaling up its investment in Ghana. 
The fastest growing micro-finance company in Africa on Tuesday launched its Rewards Gold Card which offers its customers 10 per cent discount on all goods and services they buy at Melcom shopping malls across the country.
AFB has invested more than $20 million in Ghana's economy and is looking forward to adding more to meet the needs of the increasing number of clients, Ed Humphries, Country Manager of AFB, mentioned at the launch.
According to him, the company's new Rewards Gold Card was also meant to deepen AFB's presence in the local market. The card is expected to provide clients free life insurance cover of GH¢2,000 in the tragic event of death and discount purchases at Melcom stores.
AFB has more than 50,000 customers in Ghana and currently employs 135 people with a network of 23 branches across the regions of Ghana.
Karl Westvig, AFB's Group Chief Executive Officer (CEO), in a remark, said the company also offer services to personnel of the Ghana Armed Forces, Ghana Police Service and government employees through the Controller and intends to partner as many Ghanaians as possible to help drive a better and brighter future for them.
Holders of the Rewards Gold Card would automatically be eligible to innovative packages from the company such as credit facilities, retail loyalty cards, special mobile phone services and other amazing products.
Mr Westvig also gave the assurance that AFB would soon drive a technology-led customer service revolution to reach and serve Ghanaians adequately.
Commenting on the rationale behind the company's rebranding, Mr Westvig said AFB Ghana wanted to forge a stronger alliance with the AFB group, the fastest growing consumer finance company on the continent with a market capitalization of more than $66 million.
The company employs more than 1,000 people, servicing more than 60,000 customers.
It plans to begin operations in Zambia preferably in the fourth quarter of this year.
Established in Ghana in 2010, AFB is a high growth business with three care business divisions: cards, loans and insurance.
 By Samuel Boadi