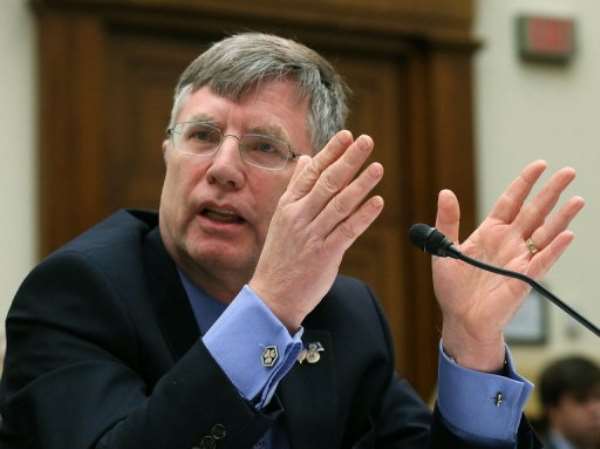 Patrick Kennedy, Undersecretary of State for Management testifies on September 18, 2013. By Mark Wilson (Getty Images/AFP)
WASHINGTON (AFP) - US lawmakers on Wednesday again took aim at the State Department for failing to hold anyone to account for the attack on a US mission in Libya a year ago in which four Americans were killed.
"The bottom line is that over one year later, no State Department personnel have been held accountable for the department's failure to protect the Benghazi consulate and the US personnel there, not one," said Ed Royce, chairman of the House foreign affairs committee.
US ambassador to Libya, Chris Stevens, and three other Americans were killed when a mob of heavily armed militants overran the mission in Benghazi, and a nearby CIA facility on September 11, 2012.
The attack shocked Americans, and roiled the 2012 presidential elections with Republicans seizing on it to lambast President Barack Obama for failing to protect US embassies abroad.
An internal review by an Accountability Review Board (ARB) found that security procedures were woefully inadequate at the Benghazi mission.
But Republicans say the review let senior State Department staff off the hook, the four people singled out for blame, had been reassigned to new positions.
"Four officials on paid leave were reinstated and reassigned into unspecified positions at this review's conclusion, while at least one individual connected with failed management policies has received a promotion," Royce alleged at Wednesday's hearing.
Undersecretary of State Patrick Kennedy was Wednesday back at Congress defending State Department moves since the attack.
He insisted that disciplinary procedures had been followed with the four people being "relieved of their senior positions" and reassigned to lower positions within in the department.
Royce also regretted that the then secretary of state Hillary Clinton was not interviewed by the review board.
"I wish I did, but I just don't see the level of accountability that Benghazi warrants; indeed, that Benghazi demands," Royce insisted.
"Meanwhile, not one terrorist perpetrator has been captured. Not one terrorist perpetrator has been killed, despite the president saying that that was a highest priority."
The FBI has been leading the investigation into the hours-long attack which also left many people wounded who were flown out of the country for treatment.
But despite months of investigation, no one has been charged with the attack blamed on Al-Qaeda-linked militants.
Kennedy insisted the State Department did everything it could to protect its diplomats abroad.
"Being a diplomat is an inherently risky business... we do everything we can to mitigate that risk," he insisted.
"The unfortunate fact is that our diplomats and facilities abroad will face attacks again, as they just did last week in Herat, Afghanistan. Since the tragic attacks in Benghazi, the tempo of threats and attacks against us has not diminished."