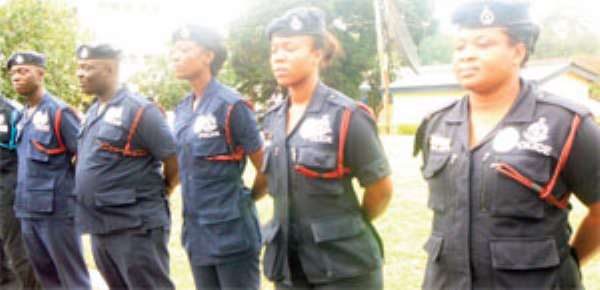 THE GHANA Police Service has launched a new police badge, as part of their efforts to check unprofessional conduct and corruption in the
service.
The badge launched at the Police personnel in the execution of lawful
duties.
The new police badge designed in an oval shape is made up of a silver metallic crest with the Ghana Police Service crown superimposed on it. It also has an inscription
'Officer' at the top and a unique and permanent service number embossed at the bottom.
Speaking at the launch, the Director-General of Public Affairs Department, DCOP/Rev David Nenyi Ampah-Bennin said the badge would serve as the Police officers' identity, their authority and a check on them
in the course of their duties.
'All personnel in uniform without the badge will be deemed improperly dressed and without authority to undertake any Police task.'
DCOP Ampah-Bennin said the badge which is currently
used by Police institutions worldwide is also captured in Regulation 28(3) of C.176 which states that 'a Police officer on first appointment shall be issued with a badge of authority as set out in the sixth schedule and certificate of a p p o i n t m e n t signed by or under the authority of the appointing authority'.
DCOP Ampah-Bennin indicated that new badge would also provide an enhanced identification for the Police Service as distinct from other private security organizations, adding that it has all the previous forms of identification which includes Service Numbers.
He further said 'it is difficult to be faked by criminally minded persons and a better form of guarantee against professional misconduct. It also prevents impersonation'.
The Director-General, however, disclosed that the Police Service, in a couple of
weeks from now, would be opening its own Command and Staff College to train its senior staff in Management, Command and Control. Presently the service relies on the Military and foreign institutions.
Inspector General of Police (IGP) Mohammed Alhassan who officially launched the
badge indicated that the launch marked the commencement of the use of the badge by Police officials across the country.
BY Lady Agyapong