Brisk Credit opens bank at Nkawkaw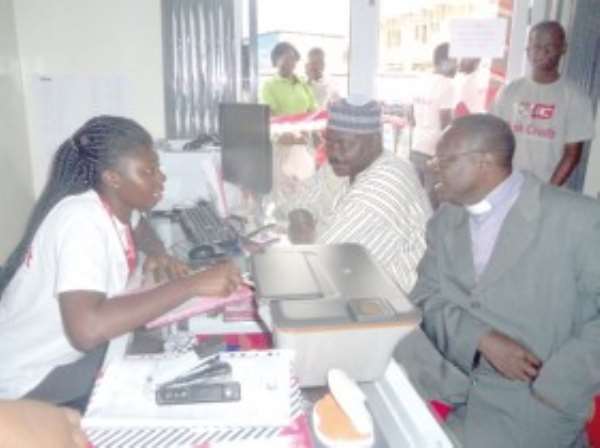 Ghana's banking system has expanded from the few state and foreign-owned banks to about 26 banks. These banks are state and privately-owned and include the UT Bank, Unibank and the Royal Bank.
Even with the expansion of the banking industry, many people who wish to access banking services are still underserved.
Those who are taking advantage of the banking services to do business are referred to as the banked while those who hide their money under their beds and elsewhere belong to the category known as the unbanked.
Until recently, the country's business posts and markets were inundated by people mobilising excess liquidity through the 'susu' business platform. There is very little security for those who save their money with 'susu' collectors since on many occasions such collectors have bolted with the fortunes of traders.
Many salaried workers and traders do not still find the banking sector attractive enough to take advantage of their products. They complain that the working hours of the banks conflict with their own working arrangements, to the extent that the banks do not make room for their hours. It is to fill this void that many micro-finance institutions are springing up to mop up excess liquidity in the system.
In the last two years, one of such companies, Brisk Credit, has entered the fray to assist, mostly traders in the Madina area, to secure their investments.
Brisk Credit plans to expand beyond the vicinity of its corporate headquarters to assist traders save their money and access credit to expand their businesses.
The micro-finance company has opened its latest branch in Nkawkaw in the Kwahu West District in the Eastern Region. That branch brings to four the number of branches of the company in the country.
During the opening ceremony, about 100 people opened accounts with the branch.
The General Manager of Brisk Credit, Mr Gideon Asamoah-Asante, said the company decided to open a branch in Nkawkaw to serve the people.
He added that the company had products such as savings, business loans, school loans, investments and funeral loans and urged the people, especially traders, to patronise them.
He also said the doors of the company were open so people should not to hesitate to access opportunities to expand their businesses.
Daily Graphic/Ghana