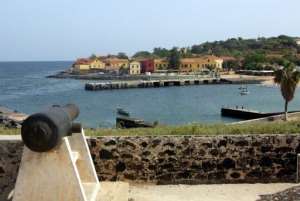 The port of the Island of Gorée, October 9, 2003. By Marcel Mochet (AFP/File)
DAKAR (AFP) - When Barack and Michelle Obama visit Goree Island, a potent symbol of the slave trade off the Senegalese coast, it will be a moment to reflect not just on a dark period of American and African history, but on the First Family's personal story.
The horrors faced by thousands of Africans transported from Goree on journeys to the New World will be keenly felt by Obama, whose father was Kenyan, but the tales of their suffering will be even more poignant for his wife, who is descended from slaves.
The First Lady is thought to have grown up with little knowledge of her origins, but US genealogist Megan Smolenyak revealed in a 2009 investigation with the New York Times that Michelle Obama's great-great-great-grandparents were a slave girl from South Carolina and an unknown white man from Georgia.
A great-great-grandfather was also a former slave from South Carolina.
"So there's this link between Obama, an American originating from Africa through his father, and his wife, an African-American originating from Africa through her ancestors," said Eloi Coly, curator of Goree's "Maison des Esclaves" ("Slave House") museum.
"I think with all these ingredients gathered together, this visit by the Obamas should be very special."
The Obamas will make a stop at Goree on Thursday, during their three-country tour of sub-Saharan Africa. It is the president's second official visit to the region, which will also take in South Africa and Tanzania.
The island of Goree, four kilometres (about two miles) off Dakar, processed many of the estimated 12 million Africans who over three centuries crossed the Atlantic Ocean bound in chains, their lives and liberty traded in the US slave market.
The Obamas will be shown the cramped cells at the former slave house built by the Dutch in 1776, and the "Door of No Return" which slaves are said to have passed through to board ships taking them on their nightmarish journeys westwards.
Doubts about the famed house's history have been circulating for at least 50 years among skeptics -- and even local guides -- who say Goree Island was never a major slave centre.
But they haven't stopped thousands of visitors each year taking the 20-minute ferry ride to the island.
Visitors to the salmon-coloured Maison des Esclaves -- and its famous stone door, high above a bank of black rocks cascading into the Atlantic Ocean -- have included other US presidents George Bush and Bill Clinton, and former South African president Nelson Mandela and the late pope John Paul II.
Notable African-Americans visiting Senegal, such as veteran civil rights activist Jesse Jackson, often make a point of stopping by.
Settled by the Portugese in 1444 and ruled subsequently by the Netherlands, England and then France, Goree was named by the Dutch who captured the island in the early 17th century, for whom "Goede Reede" meant "safe harbour".
Some of its modern-day inhabitants have complained that the heavy security accompanying the presidential visit feels like another invasion, but most of the locals are looking forward to the occasion.
"We are happy to receive Mr Obama here in Dakar, in Africa and on Goree Island," said street cleaner Pape Diallo.
"I think when Obama comes here, it is good publicity too. Although tourists will not be coming today or tomorrow, many will come later because where the president of the United States goes, everyone will want to go."
"We love Obama. He is a black American, he's nice, he smiles... On election day in the United States we all clapped and cheered," added a souvenir shop worker who gave her name as Amina.
"Even if they make us close our shops I don't mind. Nothing will spoil the day. We can make it up later... If we make this into good PR for us, customers will come after him.
"There were not so many Americans before. Maybe with Obama's visit, when he comes and he sets foot on the soil of Goree, it will encourage Americans to come."