UN confirms death of four Russians in DR Congo accident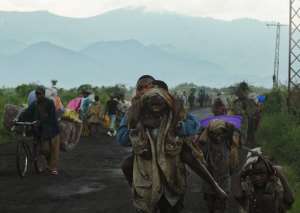 Congolese people flee from Sake on November 23, 2012 to escape a rebel advance in eastern DR Congo. By Tony Karumba (AFP/File)
KINSHASA (AFP) - The United Nations mission in the Democratic Republic of Congo on Tuesday confirmed that four Russians reported missing were killed when their helicopter crashed in a remote eastern region.
In a statement, the UN mission (MONUSCO) announced "the death of four crew members on board a civilian helicopter that crashed (on Saturday) about 20 kilometres (12 miles) west of the town of Bukavu, in South Kivu province".
"All the members of the crew were of Russian nationality," the statement said.
"The wreck of the helicopter was spotted on Sunday, but bad weather and difficulties in access slowed down the rescue operation," is added. A member of the salvage team reached the accident site on Tuesday and confirmed that the four Russians were dead, MONUSCO said.
The helicopter disappeared "when it was returning to Bukavu", the chief town in the unstable South Kivu province, "after a mission to Shabunda", added the statement.
In April 2011, 32 people were killed in the capital Kinshasa when a plane chartered by MONUSCO crashed. The UN mission has been in the vast central African country since 1999 in a bid to help restore stability and security.
Many of MONUSCO's 19,000 foreign troops and police are deployed in the mineral-rich but conflict-ridden eastern provinces, which are prey to numerous armed movements in the wake of back-to-back civil wars that drew in other countries.