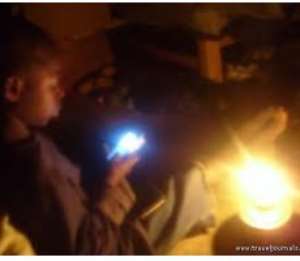 The Volta River Authority says the current power crisis the country is facing is expected to end in the middle of the year but says the surest way out of the quagmire of black outs in Ghana is an "immediate tariff adjustment".
Officials of the Authority made the proposal during a presentation to a Parliamentary Select Committee on Energy.
Thursday's meeting which involved Gridco and the ECG, was behind closed doors and was to inform the MPs on the state of Ghana's energy crisis.
The country is undergoing a severe load shedding regime characterized by unannounced outages across the country.
The country's installed capacity of 2,443 megawatts has decreased to 1,634 megawatts and has brought with it deleterious effects on businesses and residential users of electricity.
Consumers are frustrated with the outages and have been critical of government, hoping for better services.
According to VRA the situation will improve in June but bemoaned what they said is the increasing cost of generating power in the country.
Joy News' Parliamentary correspondent Elton John Brobbey intercepted documents presented to the MPs portions of which outlined the challenges VRA was going through to generate power for the country.
The documents, portions of which were quoted copiously by Brobbey indicated that that it cost them (VRA) $3 million a day to run a thermal plant using light crude oil.
The amount is twice the cost of running the plant on natural gas. A cargo of light crude oil is used for thermal generation every 20 days at a cost of $55 million, the VRA said.
They added from September to December 2012 a total amount of $340 million was used to generate thermal power.
The situation has been worsened by the destruction of the West Africa Gas Pipeline which has made the provision of gas impossible to run the thermal plants.
In 2013, the Authority said an additional 6 cargoes are expected to be purchased at a cost of $340 million, an amount they said government has paid half with the Authority looking to raise the other half.
They are therefore asking for an immediate tariff adjustment to make up for the difference.
It is not clear whether the PURC will accept the proposal for hikes by the VRA and by what margin. but the Authority insists without the tariff increases it is going to be difficult for them to implement the short to medium term policies to end the energy crisis.