The Road Carnage Is Still On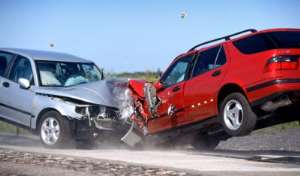 All is still not well with road transport in the country. Many commuters still entertain the fear that our roads are not safe and that some of our motorists are not prepared to respect road traffic regulations.
For some time now, our roads have become a death trap where reckless drivers terminate the lives of breadwinners of families every day.
In spite of heavy police presence on the roads, some drivers continue to break traffic regulations with impunity.
It is not far-fetched to conclude that the police and drivers are bedfellows. They bond regularly on the road and exchange pleasantries, compelling some policemen to compromise their roles as agents of change.
Security personnel deployed on the roads engage in what has become an open secret of regular 'greasing' of their palms by drivers. As a result of this relationship, the police are unable to prosecute drivers who break traffic regulations.
The presence of the police on roads per se is not a bad idea, as it serves to alert the motoring public to be alert to its obligations of being responsible citizens.
However, it is difficult to appreciate why rickety vehicles ply our roads, even with the presence of the police with their sophisticated gadgets checking speeding, drink driving and other reckless activities.
We do not discount the efforts of the police, the National Road Safety Commission and the transport unions to maintain safety standards on our roads.
The Daily Graphic thinks, however, that the actions of these institutions have not made the desired impact on drivers who ought to conform to certain standards that will bring order on our roads.
Some time in the 1980s when the country started asphalting some of its roads, there was excitement among the motoring public that soon we would be like others in the advanced world who drive on good roads.
A few decades later, this expectation is becoming a pipe dream, as our asphalted roads are becoming death traps. We used to think that accidents happen on bad roads, but now the irony is that accidents occur very often on good roads.
The spate of accidents on our roads must be halted before travelling by road becomes a dangerous endeavour. Gradually, travelling by road is no longer as pleasurable as it used to be in those days even when asphalted roads were far in-between.
The Daily Graphic calls on the police, the safety institutions and the transport unions to step up education on safety standards on our roads to help restore confidence in the travelling public that our roads are free from accidents.
We were troubled by the accident at Gomoa Mampong on the Accra-Winneba road over the weekend that has so far claimed 13 lives and denied many homes of their breadwinners.
Accidents create social, health and economic challenges because injuries and deaths caused by road crashes impact on health delivery, the economy of the country and the social lives of the families of victims of the accidents.
The Daily Graphic extends its condolences to the families of those who lost their lives in the accident, while to those who sustained various degrees of injury, we wish them speedy recovery.
We also wish to advise all motorists and pedestrians to respect traffic regulations in order to prevent further carnage on our roads.
The Daily Graphic also urges travellers not to encourage drivers to break the regulations because they want the drivers to speed, so that they can get to their destinations on time.
It lies within our power to ensure that our roads do not become death traps but remain pleasurable avenues to pursue our daily endeavours.