Pistorius 'fought' with lover before her killing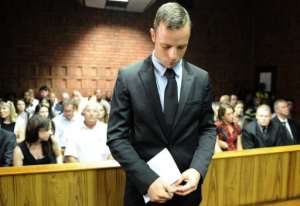 South African Olympic sprinter Oscar Pistorius appears on February 20, 2013 at the Magistrate Court in Pretoria. By Stephane de Sakutin (AFP)
PRETORIA (AFP) - Witnesses claimed they heard arguing, a woman screaming and gunfire at the house of "Blade Runner" Oscar Pistorius the night he shot dead his model girlfriend, police told a South African court Wednesday.
Pistorius's defence team undermined the reliability of the claims as the South African sporting hero sought bail for the Valentine's Day killing that he insists was a horrible accident and not intentional, as prosecutors aim to prove.
Police also said Pistorius had previously been arrested at his Pretoria home for assault, although he was not charged, and faced further charges of possessing an unlicenced gun.
A woman who lives in the same highly secured Pretoria complex as Pistorius "heard talking that sounded like non-stop fighting from two to three in the morning", hours before she was killed, Prosecutor Gerrie Nel said.
Another witness reported hearing gunshots, screams and then more shots, police said.
"We have the statement of a person who said after he heard gunshots, he went to his balcony and saw the light was on. Then he heard a female screaming two-three times, then more gunshots," Detective Hilton Botha said.
But Pistorius's legal team disputed these accounts as police said the witnesses were 300 metres (660 feet) from the house.
And the prosecution, which wants to prove that the Paralympian had deliberately planned to kill Steenkamp, was forced to admit that Pistorius's claim that he mistook Steenkamp for an intruder matched the crime scene.
"It sounds consistent," Botha said.
Steenkamp, a 29-year-old model, was shot three times through the bathroom door early on February 14, with wounds to her head, elbow and hip.
She was declared to have died later by medics who found her covered in bloodied towels and wearing white shorts and a black vest.
PIstorius, the first double amputee to compete against able-bodied athletes in the Olympics in London last year, says he shot her by mistake through a locked bathroom door, believing she was a burglar.
"I had no intention to kill my girlfriend," he said in an affidavit read to the court on the first day of his trial Monday.
"We were deeply in love and couldn't be more happy," he said.
Pistorius, 26, said he kept a firearm under his bed at night because he had been a victim of violence and burglaries before and had received death threats.
But the state prosecutor said the athlete would face an additional charge of possessing unlicenced .38 special calibre ammunition.
A police search of his home also found testosterone and needles in a dresser in his bedroom, Botha said, amid speculation that performance-enhancing drugs may have influenced his mental state.
But his defence lawyer, Barry Roux, said the sex hormone was an acceptable supplement. "It's a herbal remedy and he can use it and he has used it before," he said.
The International Paralympic Committee (IPC) announced that he was drug-tested before and during last year's Paralympic Games in London and on both occasions the results were negative.
Magistrate Desmond Nair said he could not rule out that there was some planning involved in the killing, which may be considered as a premeditated murder, setting a high bar for bail.
The bail hearing was adjourned until Thursday.
Pistorius, who off the track has had a rocky private life with stories of rash behaviour, beautiful women, guns and fast cars, has built up a powerful team of lawyers, medical specialists and public relations experts for his defence.
In 2009, Pistorius -- who once admitted to a newspaper that he slept with a pistol, machine gun, cricket bat and baseball bat for fear of burglars -- spent a night in jail after allegedly assaulting a 19-year-old woman at a party.
He runs on carbon-fibre blades, which inspired his nickname, after being born without the fibulas in both of his legs which were amputated below the knee when he was a baby.
Pistorius revealed he earned 5.6 million rand ($640,000) a year and owned the $570,000 house where the killing took place as well as two other homes.
But his career has been put on hold since the shooting, forcing him to cancel races in Australia, Brazil, Britain and the United States between March and May.
But two of his American sponsors, Nike and sunglasses maker Oakley, announced they were dropping Pistorius from their advertising campaigns, which have earned him millions of dollars in endorsements.
French cosmetics firm Clarins said Wednesday it was dropping a fragrance advertising campaign featuring Pistorius.