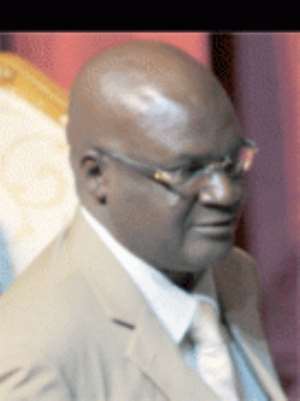 Saturday, at the Osu Cemetery in Accra, the mortal remains of Ghana Football Association Vice-President, Jordan Anagblah will be laid to rest.
Jordan, aged 55, passed on last month after a short ilness. But his demise has re-united Ghana football whose members from various levels will converge at the forecourt of the State House in accra, Saturday for the final funeral rights of the deceased.
Jordan until his death, was also Chairman of the Greater Accra Regional Football association and a CAF match commissioner.
He also served local football in various other capacities, including serving on the executive council of the Ghana league Clubs Association.
Tributes from various bodies continue to pour in for the amiable Jordan, whose funeral is being partly sponsored by Nii Cudjoe & Associates
Following are some of the tributes.
From GHALCA
The late Jordan Anagblah has passed on to greatness beyond, to begin with. There is no doubt whatsoever about that. This is why we are here, God almighty giveth and He only taketh.
Our main task is to continue praying for his gentle soul to be received warmly in the heavens above. The nation has lost one of its finest football administrators.
Jordan's guiding principle is honesty. He never hesitated to speak the truth at all times and to proffer solutions to seemingly difficult and unsolvable problems.
No amount of words can describe the immense contribution of Jordan Anagblah to the success story of the Ghana League Club's Association of which he served as an executive council member for over a decade.
As a founder member of GHALCA, he contributed significantly to the various reforms that have shaped the present state of GHALCA.
He never stopped to give workable alternatives when necessary to GHALCA executives till his last day on earth.
He never spared any moment in defending the cause of the association and his no-holds-barred attitude and comments endeared him to every member of the association.
He grew into the position of an 'elder statesman' in the association and was ready to share his experience with everybody. Even though he was representing the third tier division on the executive, he never limited his focus to the lower league alone, but took Ghana football to heart on the whole.
During his tenure on the executive council, GHALCA gave birth to its flagship tournament – the GHALCA TOP 4. The association also introduced the annual President's Cup.
In the year when the league was facing a challenge, the GHALCA executive of which Jordan was a member introduced the GHALCA special knockout in collaboration with the Ghana Broadcasting Corporation to fill the vacuum. Real Tamale United beat Asante Kotoko at the Accra Sports Stadium by a solitary goal to win the converted trophy.
This match was played under floodlights and beamed live on GTV. The significance of this match was that when RTU lifted the trophy (the first in the history of the club), the whole of Dagbon – which was then in a turmoil – burst into jubilation, thus pushing to the backburner the tension, even if for just a while.
When Anagblah left the executive of GHALCA, he never turned his back on the association as he remained as committed as ever. He was one of the regular faces at meetings, not as an observer but as an active participant.
Our personal interactions with Jordan Anagblah revealed a personality whose yes was yes, and no was no.
Even though his social life was minimal, he influenced positively the lives of others. There is no gain saying that everybody's problem was Jordan's problems.
As a football man, he travelled the length and breadth of the world working for Mother Ghana in the area of football. The football talents he discovered, nurtured or groomed into national stars are uncountable. Which players do we mention and who do we leave out?
Perhaps, Ghana's winning of the FIFA U-20 World Cup in 2009 summed up his success story as Ghana's super football administrator cum chairman of Black Satellites Management Committee.
He paid his due to GHALCA, all league clubs in the country and all lovers of the beautiful game of football.
We say fare thee well, Jordan. GHALCA's prime concern for the welfare of league clubs which was dear to your heart is being re-enforced systematically. You are, indeed, our guiding angel. May your gentle soul rest in perfect peace!
From Tudu Mighty Jets
"When peace like a river attendeth our ways, when sorrows like sea billows roll. What ever our lot, Lord thou have thought us to say, it is well; it is well; it is well with our soul."
It is unbelieveable that such a mighty oak tree has been uprooted by a strong wind. Yes, Jordan Anagblah is no more and Tudu Mighty Jets have been hard hit.
As a William Shakesparean player, he made his……entry and exist…. As ordained by his creator.
Jor was the Chief Executive Officer of our club during the Glo Premier League seasons 2010/11 and 2011/12, and worked with some cardinal principles tagged his four points:
1. Truth and honesty;
2. Speed, accuracy and hardwork;
3. Correct delegation of duties;
4. Grassroots development of football and promotion of professionalism.
His contribution to the progress of Mighty Jets cannot be quantified in monetary terms or by any other measure. The relationship dates back to 1993/94 when our club was formed.
He spent his personal funds and utilised his contacts for the club at various times. He refused to be paid for his services as the CEO. He worked closely with Sami Suka-Braimah, Daniel Larbi Akowah, Garby Musah, Nana Bentil, Danny Smith, Alhaji Massaudu, Papa Sasu , Jojo Fuseini Moham-med and James Oyedeji (Uncle Bode).
He prevailed on his colleagues at the GFA Executive Council (and years later at the GFA Executive Committee) to safeguard the interest of Mighty Jets in accordance with the laid down rules and regulations and the Statutes of the GFA. He was a friend, indeed!
We were overwhelmed when the great Jordan Anagblah acknowledged publicly the massive contribution of Abubakar Nallah (aka Abu Sondoko), president of Mighty Jets, to the success of Ghana's national male Under-20 team at the 2009 FIFA World Cup in Egypt.
The symbiotic relationship between the duo culminated in the discovery, training and development of young national football stars such as Razak Abul Sherrif, Johnson Eklu, Razak Ibrahim, Stephen Tetteh, Eric Bekoe, Prince Tagoe, Frank Andoh , Aaron Amoah, Kwame Nsor, etc.
Our prayer is that the almighty God in His infinite mercies will forgive Jordan, bless him and receive him in His bosom. We urge his close compatriots and friends such as Messrs Kwesi Nyantakyi , Fred Crentsil, George Afriyie, Felix Ansong, Moses Parker, Welbeck Abra-Appiah, Dan Bort and Abu Sondoko to continue to show love to Jor's children, family and household as they did to him before his departure to the great beyond. God bless!
The entire Mighty Jets family has lost its beacon of hope. However, we take consolation in the acknowledgement of his landmark achievements.
From the RFA
Torgbe is how they call you at the Greater Accra Regional Football Association. Torgbe! We all call you Torgbe! Torgbe!! Torgbe!!!
What stature of wind can uproot the baobab tree? It must be big, indeed. When the baobab tree falls, it puts the needy in need, because countless breed and feed on it.
Many were those that benefited from its existence. Jor! Torgbe Jor! Torgbe! Where is our support? Where shall our help come? You failed to tell us that before you left.
But hold it; we can see so clearly the magnanimous baobab did not entirely fall.
That which must retire into the bosom of the almighty fell . The main stem with its total embodiment and full complement of roots live on.
Torgbe Kofi Jordan! The stem shall blossom again. It shall flourish and bear fruits after your kind. Jor, you shall live and move and work in us. We shall take after your in deeds - so as to immortalise your name.
The size of the baobab, the commanding heights of the same is identified by his deeds from the distant. The region, your region,our region is orphaned.
No! The great region is not alone in this orphanage. Eastern - the region at the rising of the sun - you are orphaned The region of the going down of the same where the ankobra flows - Western – you are orphaned.
Nana Agyeman Badu's Brong Ahafo Region, anyemi Augustine Asante, wo ne wo nkrofo, mo aye nyanka Uncle Doe, wo ne fantefo nyinaa a mo wo Central, you are precariously orphaned.
Volta Region - oh the one where the mighty Volta gorgeously wallows in the mighty ocean. Is that where your ancestors come from? So we are told Kofi!! Kofi! Answer us?
What about those you have left behind in the upper norths? Jordan Kofi Anaglah, one of those three upper norths gave us Kwesi, Kwesi your bosom friend – they are shattered, but not scattered - and seriously orphaned, too.
Torgbe! Kofi! Jordan Kofi Anagblah!!! You are in the bosom of the almighty Jehovah and shall, therefore, live forever. We shall meet again.
Anyemi nun kpakpa, gbomo kpakpa
Yaa wor odzogban!
Edzo vor eli kplemi!
From Match Commissioners
The late Jordan Anagblah had been a long standing senior match commissioner in the country. His contribution to the society of match commissioners is unparalleled in the country today.
At the time match commissioners had leadership problems and the image of the association took a nose dive, a few of us took it upon ourselves to revive the association and endeavoured to redeem its the sinking image.
We had a lot of consultations and when we went to Uncle Jordan as a senior brother and colleague to discuss our intentions and plans with him, the nature of encouragement and pieces of advice that he gave us re-energised us to call for a national congress in Kumasi where the national leadership of the association was elected.
Through his influence, he got the football association to organise a refresher course for Premier League match commissioners in 2009.
Since then, every year through his influence, the F.A organises refresher courses for the Premier League match commissioners.
When he fell sick, a few of us visited him a few times. We were at the FA to leave his certificate of participation in the elite match commissioners course held last year with Mr Ampem Darko exactly a week before he passed on.
A few of the match commissioners in Accra had planned to visit him on a Sunday and to our utmost surprise, his death was announced the morning of the Thursday before the Sunday.
Uncle Jordan, how can we get such an approachable, influential, and ever-willing person to help champion the course of the match commissioners?
We the entire membership of match commissioners shall forever rememember you, and may the good Lord receive you into his bosom even as we prepare to find you a permanent resting place.
Damirifa due! Damirifa due!
Da yie!