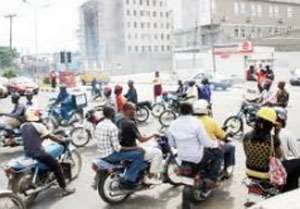 Some commercial motor bike riders otherwise known as 'Okada riders' in the Ashiaman constituency have threatened not to give their votes to the ruling National Democratic Congress (NDC) come the December elections.
The riders invaded an NDC constituency meeting on Thursday chanting 'no Okada, no votes'. 
According to the Okada riders, they want government to legalise the Okada operation since it is their only source of livelihood. 
The leader of the angry Okada riders who only gave his name as Kwesi told Citi News, the group is willing to do anything possible to maintain their jobs. 
'This is all we do to survive. I have two children and how do you expect me to cater for them? These politicians should give us peace because I have the license to ride my motor bike,' he said.
Meanwhile, the Municipal Chief Executive of the Ashiaman Constituency, Numo Adinortey Addison has appealed to the Okada drivers to be patient and work within the laws of the land.