Mali Islamists want sharia not independence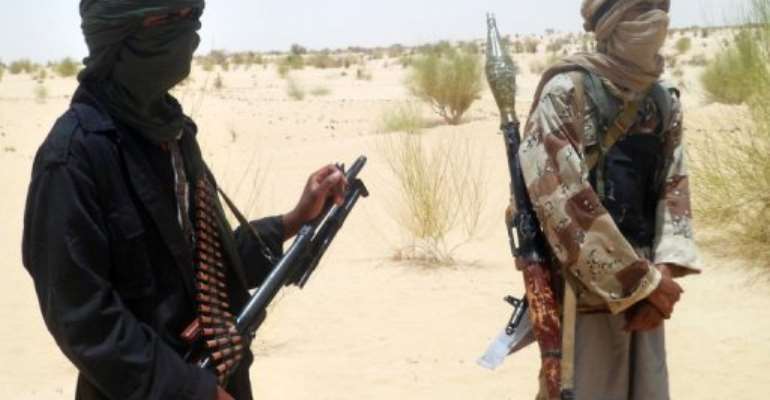 BAMAKO (AFP) - Mali's Islamist rebel group Ansar Dine, which jointly controls the country's north, said Wednesday it was not interested in proclaiming an independent state but only in the implementation of sharia.
"We have handed (regional mediator) Blaise Compaore a letter by Iyad Ag Ghaly," said a source close to the Ansar Dine delegation which has been holding talks with the Burkina Faso president in Ouagadougou.
"All we want is the implementation of sharia" in Mali, he said. "We are against independence."
Compaore was appointed as mediator by the Economic Community of West African States after a March 22 coup in Bamako created a vacuum that allowed Tuareg rebels and Ansar Dine to conquer the vast desert north in a matter of days.
Iyad Ag Ghaly is Ansar Dine's top leader, a historic figure in the Tuareg's decades-old struggle for independence who is believed to have developed close ties with Al-Qaeda's North African franchise.
He was not part of the Ouagadougou delegation.
The Islamists and Tuareg rebels both fought to seize northern Mali earlier this year in an often uneasy relationship as each group pursues their own ideology and objectives.
However Ansar Dine took the upper hand and began implementing sharia, or Islamic law, in northern towns such as Gao and Timbuktu.
Women have been forced to wear veils, people caught smoking have been whipped and cartons of cigarettes destroyed.
Brief plans between the two rebel groups to merge and create a breakaway Islamic state fell apart in recent weeks over the implementation of sharia.
The main Tuareg rebel group, the National Movement for the Liberation of Azawad (MNLA), wants the independence of Azawad, which they consider their ancestral homeland, but describes itself as a secular group.
Ansar Dine said on Monday after a meeting with Compaore that it was ready to negotiate a peaceful solution to the crisis in Mali, which has left the landlocked country effectively partitioned.
The diplomatic progress came as the United Nations Security Council was expected to approve the deployment of a 3,300-strong West African force to Mali.