Dasebere Oti Boateng lauds Ghana's investment atmosphere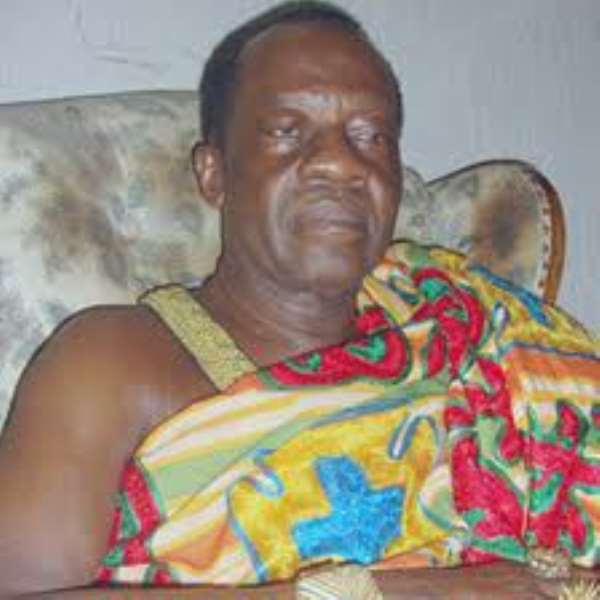 Accra, June 8, GNA - Daasebre Professor Emeritus Oti Boateng, Omanhene of New Juaben, on Friday lauded Ghana for "her great atmosphere which had endeared her to the hearts of investors".
This, he said, would not only rake in foreign exchange for the country, but help create employment for the people.
Daasebre Oti Boateng made the commendation at the launch of Trimble Navigation Limited, an industrial equipment manufacturing company, in Accra.
He said the decision by investors to transact business in the country was a mark of confidence in the nation's economy.
Trimble Navigation Limited, headquartered in the US deals in the manufacture and distribution of equipment for building and road construction, agriculture, transport logistics surveying, land administration, water and natural resource management.
Daasebre Oti Boateng commended Trimble for its vibrancy as it generated over 6.0 billion dollars in revenue and being operational in 31 countries since its establishment in 1978.
Mr Bryn Fosburgh, Vice President of Trimble, said the company had established branches in Cape Town to serve clients in Southern Africa, Nairobi to serve those in East Africa and the Accra Office would serve Western and Central Africa clients.
"The Ghana Office would focus on expanding and enhancing Trimble's collaboration with regional stakeholders including local distribution partners," he stated.
Mr Fosburgh said this, would enable the company provide better services, support and training for customers in the Region.
He said the company had equipment to handle water conservation, road and railway, marine, mining, petroleum and mobile resource management.
Mr Fosburgh, who is Head of Africa Region for Trimble, noted that the company, had over the past five years worked on contracts funded by the Millennium Challenge Corporation, the World Bank as well as many other international organisations by providing logistics.
He said Ghana was chosen due to her stable and democratic governance, strong legal system and direct flight connections to the US and Europe.
Mr Donald Tettlebaum, US Ambassador to Ghana, lauded Ghana for her vibrant economy that had made it attractive to foreign investors and urged all and sundry to work to maintain it.
He cited access to credit facility, inadequate power and water supply as some of the major challenges facing business growth in Ghana.
GNA