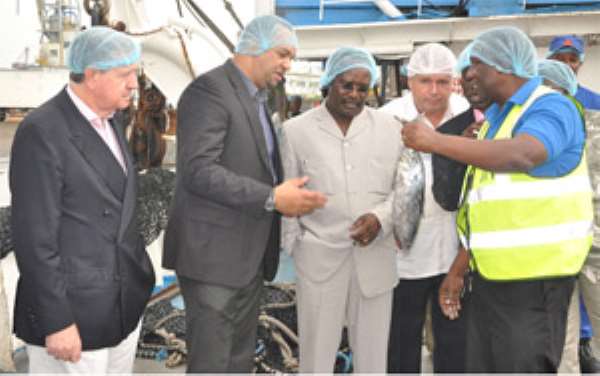 Kwesi Ahwoi (middle) listening to Nichol Elizabeth (second left) and two technical officers of PFC. With them (extreme left) is Adolfo Valsecchi, the CEO of MWBrands.
Minister of Food and Agriculture, Kwesi Ahwoi, has paid a working visit to the Pioneer Food Cannery (PFC) Limited, affiliate of MWBrands and Ghana's leading tuna processor and exporter to discuss a wide range of issues regarding the state and future of the tuna industry in Ghana.
Mr Ahwoi also learnt about the role of PFC and its on-going expansion plans.
Adolfo Valsecchi, Chief Executive Officer (CEO) of MWBrands, owners of Pioneer Food Cannery and Nichol Elizabeth, General Manager of PFC, welcomed the minister and his entourage to the offices of PFC.
Officials, who accompanied Mr Ahwoi on the visit were Mike Acheampong, Chairman, Fisheries Commission and Samuel Quaatey, Director of Fisheries, MOFA.
The group later visited the Tema Fishing Harbour to inspect a tuna fishing vessel.
 From the business desk