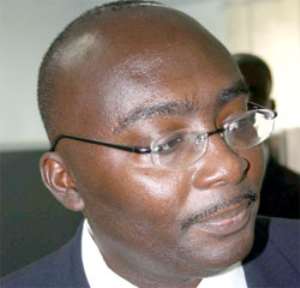 We read with amusement the interesting speech delivered by Dr Mahamudu Bawumia, which is purported to be the NPP's best foot forward in appraising the Ghanaian economy and in proposing their alternative. From start to finish the speech reveals a lot about the entity called NPP and their economic nerd rather that the subject of the speech itself.
Indeed even before he could tackle the subject matter, Dr Bawumia decided to sell his conscience just to be accepted in the NPP as another errand boy for a party which does not only despise Northerners but has consistently twisted facts of the circumstances of the North for political advantage. At the start of the presentation he kowtowed to the condescending introduction made of him by Former president Kufuor. With an air of inferiority complex the so called economic whiz kid, profusely thanked his 'selectors' for giving him, a Northern Moslem, a remote chance of becoming a running mate for a Christian Southerner. Nothing could be more insulting and demeaning to proud, independent and enterprising Ghanaians of Northern descent than this repulsive betrayal and obeisance to the NPP's Southern-controlled party.
The question is, what is unique about the NPP that DR. Bawumia had to condescending to for being 'allowed' to become a running mate to Akufo Addo? The fact is that the hierarchy or the structures of the NPP consists of one predominant ethnic group. This manifests itself in and continue to define their policy of divide rule (Kufuor's eight years in government provide many cases in point). This toxic and reckless policy nearly derailed our peace in Ghana. To bow to this lot is to submit you conscience and dignity to their fascist tribalism.
By the above criticism, we are not suggesting or supporting reverse superiority of the people of Northern descent over any other Ghanaian. We strongly and unequivocally believe in and profess our party's egalitarian principle. It is in that vain that we reject the dichotomy portrayed by Dr Bawumia. All Ghanaians are equal and that must be clear to the NPP and Dr Bawumia.
On the issue of equality of and equal opportunities for all Ghanaians, Dr Bawumia stepped into a minefield laid by his party, by stating that, his boss' vision is not a better Ghana for a few connected people but a better Ghana for all. Unfortunately he seems to forget that Akufo Addo and Kufuor made the same promise to Ghanaians in 2000, only to end up using power to heartlessly and brutally witch-hunt Tsatsu Tsikata, Dan Abodakpi, the late Victor Selormey and others. Dr Bawumia also appeared to have forgotten that Nana Addo was the Attorney General at the time, who pursued these Ghanaians like a German shepherd on opium. The fascist politics of vindictiveness, selective justice, and mob rule was there hallmark.
What Dr Bawumia also seemed oblivious to is that the same Nana Addo, who likes to be called a human and civil rights lawyer, was in charge of the Foreign Ministry when over 40 Ghanaians were brutally rounded up and murdered by Yahya Jameh's junta. But Nana Addo refused to pursue justice for the victims. It was the Mills government which took the bull by the horns and achieved some justice and reparation for them; a true better Ghana for Every Ghanaian Living Everywhere (EGLE).
Again, under the so called erudite Akufo Addo's stewardship as Attorney General the NPP presided over the brutal murder of The Yaa Naa and Alhaji Issah Mobila, not to forget about the abhorrent assassination of Roko Frimpong. Imagine what Ghana these Ghanaians and there families endured under Akufo Addo.
If they really cared about the pains that the bereaved families went (and are still going) through, the NPP would have:
1. Commissioned an independent inquiry into those deaths and
2. Conducted a credible investigation in order to restore peace and bring the perpetrators to justice.
In the face the above:
1. How can we rely on Dr Bawumia's promise of a better Ghana for all Ghanaians and not a fascist regime for the pursuit of tribal superiority (refer to the NPP1's policy of regional balancing) and settlement of hate-field scores?
2. How can we be sure that Ghanaians in the corporate world will not meet their unexplained deaths for dissent?
3. How can you assure existing and potential investors of their safety, assets and investments?
4. How can we be sure that state assets will not be pillaged for the benefit of families and cronies?
5. Can Dr Bawumia assure us that a few journalists will not be manipulated with diverted national resources for the sole purpose of manipulating public opinion in favour of a non-performing regime?
6. Can Ghanaians be certain that the resources of National Security and the Ghana Police Force will not be disproportionately deployed to monitor and hound political opponents at the expense and neglect of football-loving Ghanaian public, thus exposing them to stadium disasters?
7. How can we trust that an Akufo-Addo/Bawumia regime will not result in another regional balancing in which illiterates are clad in uniforms, handed guns and asked to make 21st century policing decisions?
There is no doubt that Dr Bawumia is handsome and will make a great TV presenter on 'managing family budgets'. But on the issues of leading an all-inclusive Ghanaian economy, he does not on come across as pedestrian but is also in an unreliable company. The NPP has never changed, cannot be rehabilitated and therefore must never be trusted.