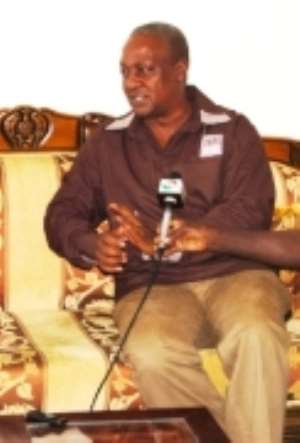 Accra, April 24, GNA - Vice President John Dramani Mahama on Tuesday underscored the importance of government's involvement in the "Grow Africa Project," saying the initiative would help strengthen private sector investment in the agricultural sector.
The Ministry of Food and Agriculture (MOFA) and other stakeholders are involved in the project to foster collaboration between the African Union and the World Bank.
In a speech read on his behalf at the Agribusiness Roundtable organised by MOFA in Accra, Vice President Mahama said the forum would harness the momentum of the G8 Summit to solidify private sector investment that would facilitate the sustenance of the long-term development of the agricultural sector.
A key objective of the project is to stimulate greater private sector investments through concrete plans in order to support the creation of a business enabling environment for the sector.
Vice President Mahama said there was a definite shift in policy towards the private sector, and that government had begun to promote the sector as the engine of growth and a key partner in attaining Ghana's development achievements.
"Through the Food and Agriculture Sector Development Policy Medium Term Agriculture Sector Investment Plan, government is addressing six objectives, which includes food security and emergency preparedness, growth in incomes, access to market, sustainable management of land and environment, applied science and technology and enhanced institutional coordination," he said.
Vice President Mahama noted that these initiatives were based on enhancing productivity along value chains as well as providing smallholder farmers with the tools and skills necessary to integrate them into supply chains.
He said government's agribusiness strategy was embedded in the sector policy and investment plan, which was important in the successful transformation of agriculture.
In this connection, government in collaboration with the World Bank and USAID has prepared the Ghana Commercial Agriculture Project to realise the policy objective.
Vice President Mahama said new opportunities would arise through the implementation of the programmes, stressing: "There are also ongoing projects which are already providing support in these directions."
He announced that government had instituted various measures to address the challenges of infrastructure development and the need to increase private sector access to credit at a competitive cost and to regulate secured and legal access to land.
Vice President Mahama said to facilitate access to land, extensive negotiations with the local communities would be facilitated whilst participatory land rights inventory would be undertaken.
GNA