Thousands gather to welcome Malawi president's remains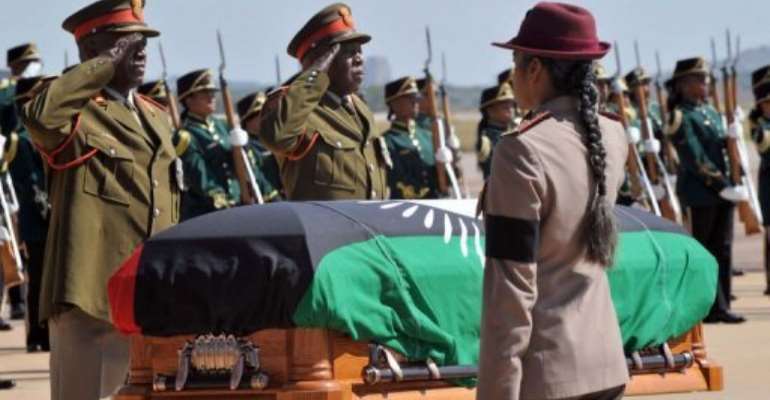 LILONGWE (AFP) - A sombre mood fell over Malawi as scores of people welcomed home the body of late president Bingu wa Mutharika, flown back from South Africa Saturday following his fatal heart attack.
Thousands of Malawians waited with new President Joyce Banda as a South African military aircraft touched down at Kamuzu International Airport shortly after 1415 local time (1215 GMT), bearing the remains of a man known both as the "father of the nation" and an oppressive "Mr Know-it-all".
A 21-gun salute sounded as South Africa's military handed Mutharika's brown casket draped with the Malawi flag -- a red sun rising over black, red and green horizontal bars -- to Malawian officers on the airport tarmac.
The armed forces mounted a guard of honour for Mutharika as a military brass band played solemn music.
Bishop Joseph Zuza, head of the Malawi Catholic Church, offered prayers invoking God to "forgive the sins" of Mutharika, and Malawians to "pray for his soul to rest in eternal peace."
Zuza, an outspoken cleric who once criticised Mutharika for his "bad economic policies", said the mourners had gathered to welcome the body with "sorrow and love because death is not the end of everything, but the beginning of a new life."
The crowd was not left unmoved.
"The reality that we have a funeral has sunk in among residents of the capital city. We want to give our dear leader a hero's welcome from South Africa," said Richard Phiri, a supporter of Mutharika's Democratic Progressive Party (DPP), as he climbed down from a truck in the airport car park.
Even supporters of Mutharika's rival Banda showed up, wearing the colours of their People's Party.
"For once, the nation should be united over this funeral. Despite his failings, Mutharika was our head of state," Sheila Gamute told AFP.
The 78-year-old leader's body had been flown to South Africa for embalming after he suffered the fatal heart attack on April 5.
Government trucks ferried people to the airport amid fuel shortages caused by a lack of foreign currency blamed on Mutharika's policies.
Neighbouring Zambia has given Malawi five million litres of fuel, which can last for five days, to "help with the funeral process."
A Catholic private mass for Mutharika was conducted at State House soon after his body arrived there.
Mutharika was a Catholic although he often rebuked the church for openly criticising him on socio-economic issues and bad governance.
But public sympathy over the president's death has not been unanimous.
"Let the man be buried first. We come to mourn and bury him, not to praise him," wrote Edward Chitsulo, a columnist in the independent Nation newspaper on Saturday.
"Of course that he plunged the country into economic and social abyss is not under dispute," he added.
Mutharika had expelled Banda, his vice president, from his ruling party in a bitter succession battle, as he chose to groom his brother Peter as heir apparent.
His death last Thursday created two days of political uncertainty as the former leader's inner circle tried to block Banda from assuming the post.
But as ordered by Malawi's constitution, she was sworn in a week ago as Africa's second female head of state after Liberian President Ellen Johnson Sirleaf.
She urged Malawians to give her predecessor a "dignified funeral".
Mutharika's body will lie in state at the $100-million (76-million-euro) presidential palace for "family and friends to pay their last respects", according to funeral committee head Henry Mussa.
It will then be taken to Mzuzu in the north and Blantyre in the south.
He will buried on April 23 at a family mausoleum on his personal farm 20 kilometres (12 miles) from the commercial hub Blantyre.
"His wish was that he be buried next to his first wife Ethel at their mausoleum," Mussa said.