Libya leader threatens 'force' to foil east autonomy bid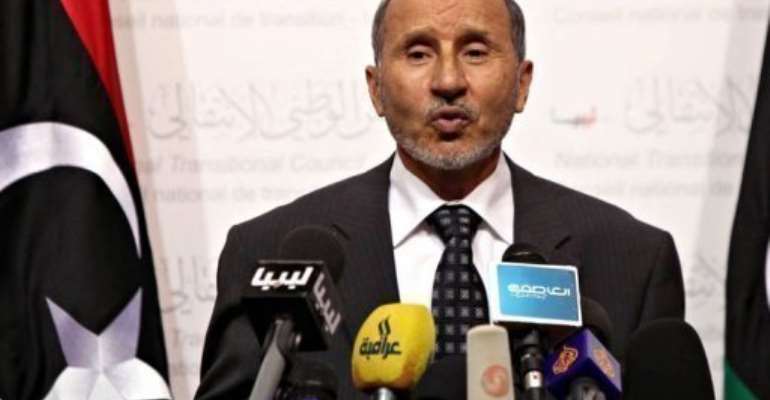 TRIPOLI (AFP) - Libyan leader Mustafa Abdel Jalil said on Wednesday he would defend national unity "with force" if necessary, after tribal leaders and politicians declared autonomy for the eastern region of Cyrenaica.
"We are not prepared to divide Libya," Abdel Jalil said as he called on leaders in Cyrenaica to engage in dialogue and warned them that there were remnants of the regime of slain leader Moamer Kadhafi in their ranks.
"They should know that there are infiltrators and remnants of Kadhafi's regime trying to exploit them now and we are ready to deter them, even with force," he said in televised remarks at a conference in Misrata held to unveil a draft national charter.
"The national charter contains provisions that protect this nation and it is like a constitution for Libya's future," Abdel Jalil said of the draft document, which was later posted online.
The document lays the foundations for a parliamentary democracy with a decentralised system of administration, promising local accountability to citizens through mechanisms decided by the executive branch.
In principle, decentralisation involves a devolution of powers from the top down, while federalism implies individual territories ceding powers to the central government.
Tribal and political leaders in the oil-rich east are trying to carve out an autonomous territory and have called for a federal system of governance.
On Tuesday, they unilaterally declared the region of Cyrenaica (Berqa in Arabic) as autonomous but recognised the ruling National Transitional Council (NTC) as the country's legitimate representative in foreign affairs.
Libya was a federal union from 1951 to 1963 during the monarchy of Idris Senussi, which split the country into three states -- Cyrenaica, Tripolitania and Fezzan.
Cyrenaica, which runs from the Mediterranean town of Ras Lanuf eastward to the Egyptian border, and southward to Chad, comprises half of the country's territory.
It also holds about three-quarters of Libya's vast oil reserves, according to Arish Sayid of the Benghazi-based Arabian Oil Co.
Advocates of a return to federalism say it will prevent the east from being marginalised as was the case for decades, while opponents fear it will split the country.
Benghazi-based Libyan political analyst Mohammed bin Hariz told AFP federalism would exacerbate rather than ease tensions in Libya.
"Advocates argue that federalism is a safety valve for national unity but federalism and unity are contradictory terms that cannot co-exist," bin Hariz told AFP.
The distribution of oil wealth, he warned, could engender conflict.
"What did federalism achieve in Iraq," he asked, pointing to the ongoing struggle between the autonomous oil-rich northern region of Kurdistan and the central government in Baghdad.
Libyan university professor Sadiq Budawara said "many may agree that federalism is the most appropriate form of government for Libya and that it doesn't necessarily lead to division.
"But it is an entirely different matter when the decision to go federal is made by one region unilaterally without consulting other regions. This will split the land."
Senior officials in Tripoli, including interim Prime Minister Abdel Rahim al-Kib, have flatly rejected the federalist project as a throwback to the past, promoting a programme of decentralisation instead.
On Tuesday, Abdel Jalil said some unnamed Arab nations were supporting and financing sedition in eastern Libya in a bid to prevent the so-called Arab Spring from reaching their doorsteps.
Hundreds of people demonstrated on Wednesday against federalism in southern Libya, including in the desert cities of Kufra, which is located in Cyrenaica, and Sabha, in Fezzan, according to video footage posted on Facebook.
Others, even the Cyrenaican "capital" of Benghazi, have witnessed similar rallies, with banners emphasising national unity and state-building, and stressing that Tripoli is the only capital.
Ahmed Zubair al-Senussi, who was appointed head of Cyrenaica's governing council on Tuesday, downplayed fears that the federal model, which grants each territorial unit limited executive, legislative and judicial powers, would splinter the country.
"This is not sedition," he said in an interview with AFP, arguing that federalism, which thrived in the United Arab Emirates, is the most suitable form of government for Libya.
Senussi is a relative of the late King Idris I, who was overthrown by Kadhafi in a 1969 coup, and was the longest serving political prisoner under Kadhafi's regime. He is also a member of the NTC.
Meanwhile, Organisation of Islamic Cooperation chief Ekmeleddin Ihsanoglu urged Libyans "to preserve national unity and territorial integrity of Libya."
In a statement received by AFP, he also "renewed his call for all Libyans to rally around the (NTC), which is the sole legitimate representative of the Libyan people, and to support the transitional government in this important sensitive period."