Clinton in Morocco as Maghreb tour winds up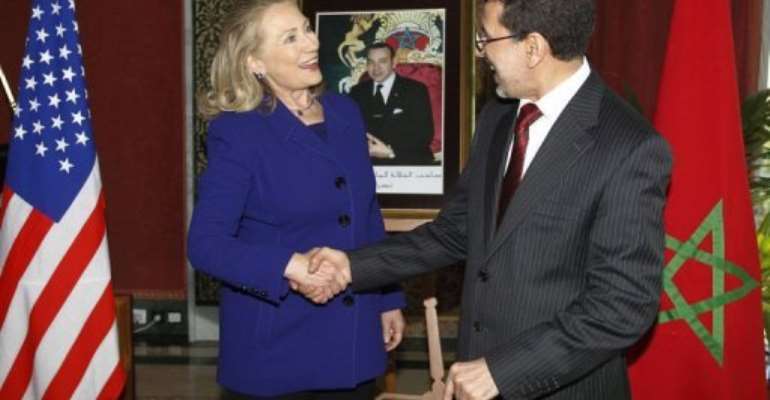 RABAT (AFP) - US Secretary of State Hillary Clinton went into talks on Sunday with her Moroccan counterpart Saad Eddine Othmani on the third and final leg of a Maghreb tour aimed at nurturing democracy in the region.
The talks are the first between Clinton and a member of the government of Abdelilah Benkirane, a moderate Islamist who took office in January.
Earlier the US secretary of state met an adviser to King Mohammed VI, Fassi Fihri.
Morocco's new government is confronted with difficult social conditions with a high rate of unemployment in the nation of 33 million people, most of whom are poor.
Washington and Rabat have close political and defence ties.
After Benkirane's Justice and Development Party won November elections, Clinton said Washington was ready to work with the new parliament "to strengthen the rule of law, raise human rights standards, promote transparent and accountable governance and work toward sustained, democratic reform."
In the defence area, Rabat is taking delivery of 24 F-16 jet fighters it ordered from the United States four years ago.
Clinton's north African tour began in Tunis on Friday when she took part in a "Friends of Syria" international gathering.
A top official praised Morocco's role concerning Syria as a non-permanent member of the UN Security Council, saying on condition of anonymity: "It's worth remembering that Morocco introduced on behalf of the Arabs the resolution on Syria that was ultimately vetoed by China and Russia."
In Algiers on Saturday she met with President Abdelaziz Bouteflika, urging Algeria, Tunisia and Morocco to maintain the momentum of the democratisation brought about by the Arab Spring by deepening reforms.
"I come from Tunisia, tomorrow I will be in Morocco. My message is the same: the people of the Maghreb are as talented, creative and hard working as people anywhere in the world," she said in Algiers.
"They need and deserve to make decisions on behalf of themselves because that is good for the dignity and rights of every individual and it's good for every society."
The Maghreb region comprises Algeria, Libya, Mauritania, Morocco and Tunisia.