World pledges new help for Somalia but rebels defiant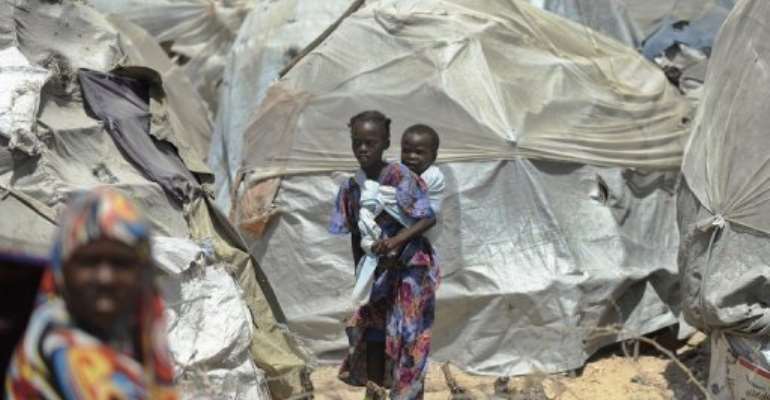 LONDON (AFP) - International powers pledged Thursday to boost aid for Somalia to tackle Islamist militancy, piracy and political instability, warning that failure to help now could hurt the rest of the world.
In a final communique, 55 countries and organisations gathered in London said they would act to punish anyone trying to prevent a peace process under which the fragile transitional government will hand over power in August.
But even as the leaders discussed the Horn of Africa nation's attempts to end two decades of chaos, Somalia's Al-Qaeda-allied Shebab insurgents vowed to "wage war" against any international peace initiative.
British Prime Minister David Cameron said the problems Somalia faced, ranging from Shebab militants and pirates plaguing the Indian Ocean, had global implications.
"After two decades of bloodshed and some of the worst poverty on Earth, there are the first signs of fragile progress in Somalia," he said.
"Supporting these efforts is not just right for the people of Somalia, it is right for the whole world.
"Because when pirates are disrupting vital trade routes and kidnapping tourists and when radicalism is poisoning young minds and breeding terrorism, it is in all our interests to support the Somali people in taking back their country."
UN chief Ban Ki-moon and US Secretary of State Hillary Clinton were among those attending the talks in London, along with Somalia's president and prime minister, the Arab League and the African Union.
The communique also hailed the UN Security Council's decision on Wednesday to boost the AU force in the country to 17,000, but was short on promises of concrete assistance for Somalia.
It said possible sanctions would be further discussed at a follow-up summit scheduled for June in Istanbul.
Clinton said earlier the United States would push for sanctions, including travel bans and asset freezes, for those "standing in the way" of progress by the fragile transitional government, whose mandate expires in August.
She also pledged an extra $64 million in humanitarian assistance to the region to help improve the lives of ordinary Somalis, blighted by famine and civil war for the past 21 years.
"We have come together at a critical halfway point," she said.
Ban meanwhile urged the world to build on recent progress.
"We have opened a space for peace and stability in Somalia. It is a small space but it presents an opportunity we cannot afford to miss," the UN secretary-general said.
In the chaotic Somali capital Mogadishu, residents raised home-made British flags on Thursday in solidarity with the conference.
Two blasts were reported in Baidoa, the town seized from the Shebab by Ethiopian troops and pro-government militia on Wednesday, dealing a major blow to the Islamists.
The town was one of the Shebab's main bases and its capture leaves the insurgents in central Somalia increasingly isolated, with the African Union mission also chasing them out of the capital.
But the Shebab remained in defiant mood Thursday.
"We will confront and counter, by any means possible, all the outcomes of the London conference," the fighters said in a statement, accusing the meeting's delegates of "prolonging the instability" in Somalia.
Somali President Sharif Sheikh Ahmed urged the international community to make good on previous pledges, saying: "We want to know what about all those resolutions and those hopes that remain as mere words on piece of paper."
Somalia has had no effective government since 1991 and in recent years the Shebab rebels and other groups have taken an increasing hold on large parts of the country.
At the weekend however, Somalia's disparate leaders agreed on the basic structure of a new parliament and government to replace the transitional body.
Osama bin Laden's successor Ayman al-Zawahiri announced last week that Shebab fighters had joined forces with Al-Qaeda.
Somalia's chaos has also made it a global centre for piracy in the Gulf of Aden and Indian Ocean, but the international fleet mobilised in 2008 recorded a slight fall in attacks last year against merchant ships.
Famine zones in Somalia declared by the UN last August have been downgraded to emergency status, it was announced earlier this month.