Top Kenyans face ICC trial decision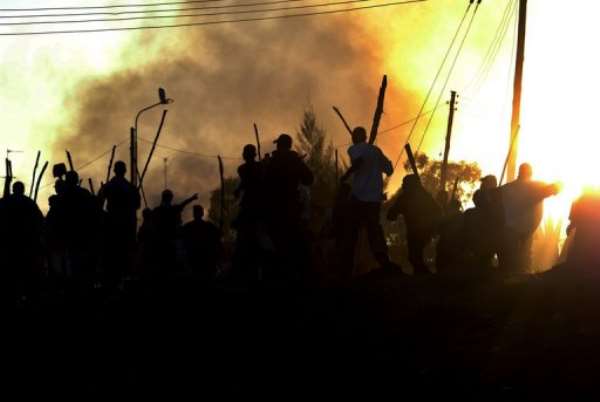 What began as political riots in 2007 soon turned into ethnic killings. By Tony Karumba (AFP/File)
THE HAGUE (AFP) - The International Criminal Court will rule Monday on whether up to six top Kenyans should face trial for their roles in deadly post-poll unrest five years ago in which 1,100 died, its judges said Friday.
They will announce the decision relating to charges of crimes against humanity against the six at a public hearing at the court in The Hague, after informing the suspects and their lawyers in writing, a statement said.
"Neither the parties nor the participants will be present in the courtroom during this public appearance," the ICC said.
The judges' ruling on who should be tried and on what charges could lead to a renewed eruption of violence in the east African country, analysts said, should it be perceived as favouring one camp over the other, or simply letting them all off too cheaply.
The court could however also ask the prosecutor to provide more evidence before making a final call to send anyone to trial.
ICC chief prosecutor Luis Moreno-Ocampo was given the court's permission in March 2010 to investigate the six, three of them aligned with President Mwai Kibaki's Party of National Unity and three who supported the opposition Orange Democratic Movement of Raila Odinga, now the prime minister in a coalition government.
Top leaders from each group, current Deputy Prime Minister Uhuru Kenyatta as well as ex-higher education minister William Ruto, are seen as potential presidential candidates in elections set for mid-March 2013.
Kenyatta, 50, Kibaki's right-hand man Francis Muthaura, 65, and ex-police chief Mohammed Hussein Ali, 55, are accused of keeping Kenya's ruling party at the time in power "through any means necessary."
They face five counts including orchestrating murder, rape, forcible transfer and persecution in the polls' aftermath, described as "one of the most violent periods in Kenya's history."
Kenyatta, especially, has been accused of having long-running ties with the country's shadowy criminal gang called the Mungiki -- a sect-like criminal organisation known for skinning and beheading its victims -- which he directed to attack opposition supporters.
During an earlier confirmation of charges hearing the three men's defence however rubbished the prosecution's claims, with Kenyatta's lawyer Steven Kay telling the bench much of the prosecution's evidence was based on witnesses motivated by greed.
"What they are saying is simply not true, by date, or by fact, or by image. It came down to money," Kay argued.
Opposition supporters Ruto, 45, ex-industrialisation minister Henry Kosgey, 64, and radio boss Joshua arap Sang, 36, all Odinga supporters, face three counts of murder, forcible transfer and persecution.
Their defence accused prosecutors of not properly investigating the case, with Ruto's lawyer David Hooper saying "there has been a total failure to investigate the exonerating circumstances in the investigation."
What began as political riots after Odinga accused Kibaki of rigging his way to re-election soon turned into ethnic killings targeting Kenyatta's Kikuyu tribe.
This launched reprisal attacks in which homes were torched and people hacked to death in the worst outbreak of violence since Kenya's independence in 1963.
The prosecution said 1,133 people died and several hundred thousand were displaced.
The ICC opened its doors in 2003 as the world's first permanent tribunal handling cases of genocide, war crimes and crimes against humanity in countries which were unable or unwilling to bring them to trial on their home soil.