Frenchmen's kidnappers held in Mali, video emerges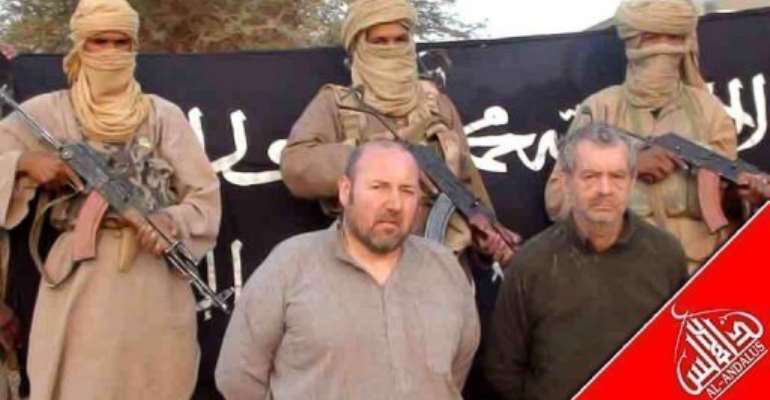 BAMAKO (AFP) - The kidnappers of two Frenchmen snatched in Mali last month have been arrested, security sources said Monday, while video footage emerged of three other Europeans held by an Al-Qaeda splinter group.
"The group responsible for the abduction of the two Frenchmen in Hombori were arrested by Mali's security services," one source said, giving no details of the number detained or the circumstances.
The sources said the arrests happened in Mali and investigations were continuing.
Philippe Verdon and Serge Lazarevic were seized at gunpoint from their hotel in the town of Hombori near the border with Niger on November 24.
Al-Qaeda's north African wing said in a non-authenticated statement sent to AFP's bureau in Rabat last week that it was responsible for the kidnapping of the pair and of three Europeans a day later in Timbuktu, northern Mali.
No hostages were with the kidnappers when they were captured on Malian soil, but a security source said "inquiries are going on".
Al-Qaeda in the Islamic Maghreb (AQIM) accused Verdon and Lazarevic, who claimed to be mineral prospectors, of working for French intelligence.
Separate pictures of the two Frenchmen and the hostages from Timbuktu guarded by armed masked men were also released.
A German tourist who was with the three in Timbuktu and tried to resist the kidnappers was shot dead with a bullet to the head.
Meanwhile video footage seen by AFP in Bamako Monday showed two Spaniards and an Italian who were kidnapped in Algeria in October and purportedly held by an Al-Qaeda splinter group.
The undated footage shows the hostages' faces clearly and is preceded by the name of the previously unknown organisation that claimed their abduction on Saturday, the Jamat Tawhid Wal Jihad Fi Garbi Afriqqiya (Unity Movement for Jihad in West Africa).
The hostages, a Spanish man and woman and an Italian woman, can be heard identifying themselves in their own languages.
The man's foot is bandaged and the two women are clad in blue gowns and yellow headscarves.
In the background, masked gunmen can be seen keeping watch.
The group claimed responsibility for the kidnapping on Saturday, saying it had broken away from AQIM.
On Friday the Mauritanian news agency ANI carried pictures of five Westerners whose abduction in Mali last month in two separate incidents was claimed by AQIM.
In all, 12 Europeans, including six Frenchmen, are being held in the north African Sahel desert region by AQIM and its self-declared dissident group.
The other four Frenchmen were kidnapped in September 2010 at Arlit in neighbouring northern Niger, in the uranium-mining town of Arlit, operated by the French nuclear group Areva.
Verdon and Lazarevic have had a chequered history in unstable parts of Africa and the Balkans, which has raised questions on the reason for their presence in this dangerous part of Mali.
French troops joined Malian soldiers in a search in the Hombori region and around the nearby town of Gao after the abduction of the pair, who were presented as "geologists" working in Mali for a local firm.
French Defence Minister Gerard Longuet said Sunday in Nouakchott that "we maintain by all appropriate means many channels of information and, if necessary, hold negotiations," adding that the first priority was to bring home the hostages.
He added however that "France is not responsible for the behaviour of its nationals who live abroad. There will always be in the world a Henry de Monfreid and an (Arthur) Rimbaud (an adventurer writer and poet of the 20th century), who live out their own adventures. We cannot be responsible for all of them."
French Foreign Minister Alain Juppe confirmed reports of "contacts" made to win a hostage release, but gave no other details.
Northern Mali's vast desert has AQIM bases, from which the group leaves to commit attacks on the security forces, the kidnapping of Westerners and trafficking in items like drugs and guns.