HAPPY FM MASS WEDDING COUPLE RETURN FROM HONEYMOON TRIP TO SOUTH AFRICA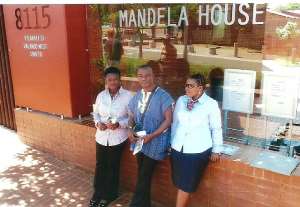 Accra, 10th November, 2011: Winning couple of the Happy FM Mass wedding held earlier this year, Mr. and Mrs. Aggrey Korsah, have arrived in Accra after an exciting trip to Johannesburg, South Africa. Happy fm sponsored the all-expense paid honeymoon trip, which was the prize package for winning the most outstanding couple award.
The couple visited historical sites such as Nelson Mandela's home in Soweto, and Constitutional Hill, a historical landmark during the Apartheid era in South Africa. The couple also visited the current residence of Nelson Mandela.
The Executive Chairman of Global Media Alliance, the mother company of Happy Fm, Mr. Edward Boateng, the General Manager of Happy Fm, Charles Osei- Asibey and some selected staff saw the couple off at the airport and welcomed them on their arrival in Accra.
"We can't thank Happy Fm enough for this wonderful opportunity. We had a great time in South Africa. We are truly grateful', shared Mr. and Mrs. Aggrey-Korsah.
General Manager of Happy FM, Charles Osei Asibey noted that the trip was in fulfillment of a promise made to the couple to fly them to South Africa to continue their honeymoon outside of Ghana.
The Happy FM Mass wedding is a Corporate Social Responsibility program held by Happy FM every year to bring financial relief to couples who want to be married by ordinance.
HAPPY FM
Happy 98.9FM: Ghana's No. 1 Sports Station
Adjudged Sports Station of the year consecutively in 2006 and 2007 and the Soccer Station of the Year 2009, Happy FM is one of the most successful radio channels with very high listenership across Ghana. Committed to pleasing the local community, Happy FM is Ghana's resource center for sports information and entertainment.
Broadcasting in both English and Twi, Happy FM's interesting line-up includes; Happy Sports (adjudged CIMG Radio Programme of the Year 2009), Sports Review, Black Stars Radio, Sports Talk among others hosted by seasoned sports broadcasters.
Visit Happy FM website: www.happyghana.com