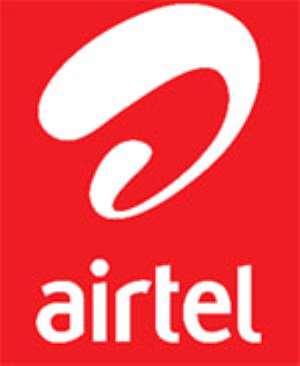 Another innovation  from telecom giant    Airtel in its efforts at ensuring 'cashless economy' and nurturing the culture of savings in the unbanked majority in the country, is its Advanced Services functionality of 'Airtel Money' which provides customers with immediate access to banking services through their mobile phones.
At an Airtel Money Media Experimental section held at the company's offices at Osu, yesterday, Lucky Ochieng, Sales Director of Airtel Ghana emphasised that  'Innovation is the driving force for economic growth in every sector, and Airtel as a company has the track record that is unrivalled in mobile telecommunications for delivering relevant and innovative mobile solutions to help customers overcome their daily challenges'.
He indicate that it is the company's goal to make communications, banking payments, retail and infotainment affordable and accessible to all in Africa, and especially in Ghana, and through Airtel Money .
We have created safety by initiating a cashless society, where one can make direct purchases with e-money instead of the actual exchange of real money from one source to another.
Airtel Money, formally called Zap, is Airtel's innovative and award winning e-commerce service that allows customers to use their mobile phones as a mobile wallet.
Airtel Money includes the most comprehensive package of e-commerce and payment features currently available on the Ghanaian market.
The enhanced Airtel Money is expected to provide millions of people with access to banking services for the first time, and has the potential to transform banking in Africa and dramatically increase access to financial services.