Ghanaian recognised in Young Commonwealth with Photographic Awards Photographic Awards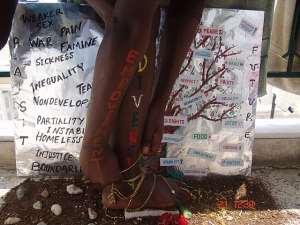 The Royal Commonwealth Society is delighted to announce that a young photographer from Ghana has been announced a winner in the 2011 Young Commonwealth Photographic Awards.
Gloria Dwomoh (19) was on the winning shortlist in the Senior (18-30 years old) category for her symbolic image of a woman breaking the chains that are holding her back from a bright future.
The theme of this year's competition was 'Women as Agents of Change' mirroring the 2011 theme of the Commonwealth. Entrants were encouraged to think about the opportunities and barriers faced by women around the world, as well as the role women play in their homes, communities and countries.
A distinguished judging panel including professional photographer, Michael Hallett, and Tate Britain curator, Katherine Stout, praised the standard of the entries: "The sheer breadth of interpretation of the theme was impressive. The creative potential of the younger photographers was especially encouraging."
(Michael Hallett)
Gloria's image will be one of twenty-two photographs exhibited at the Commonwealth Festival Perth 2011, a significant achievement given the hundreds of excellent entries from all over the Commonwealth. The Commonwealth Festival will also be flying two of the shortlisted photographers to Perth during the Commonwealth Heads of Government Meeting at the end of October. This is a tremendous opportunity for young photographers to see how the Commonwealth functions at the highest level; to be part of the events surrounding the Meeting and witness first hand the one-off, stunning outdoor exhibition of this year's Competition being presented by the Commonwealth Festival 2011.
Visit www.thercs.org/youth/418 to see the winning entries in this year's competitions.