GLOBAL MEDIA ALLIANCE HOSTS PRESS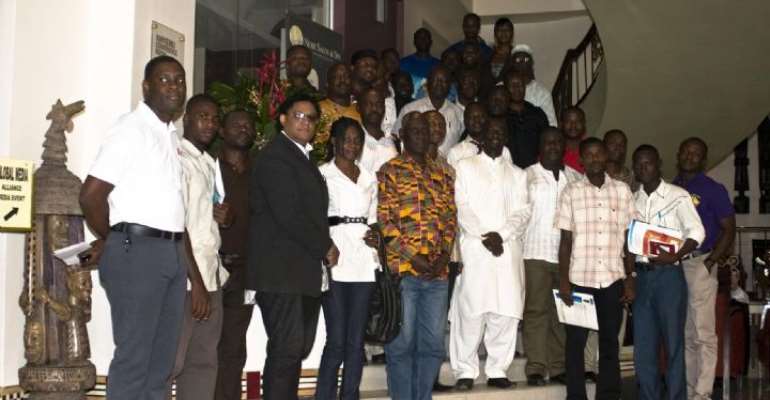  Edward Boateng urges media to practice high standards of professionalism
 Media friends treated to an unforgettable experience at African Regent Hotel
Accra, 14th January, 2011: Global Media Alliance has hosted media executives including senior journalists and reporters at the African Regent Hotel. Media Friends' is held annually by Global Media Alliance here management of the company interacts with press executives and share interesting ideas on how to promote media excellence in the country. The day is also set aside especially to thank the media for the partnership GMA continues to in carrying out its projects and services as a leading integrated media and entertainment company with momentous footprints in advisory services and events
The day provided a unique platform for editors and senior journalists to interact management of Global Media Alliance and its respective business units including Happy FM, Y FM, Anigye FM, e.tv ghana and Silverbird, Management of GMA thanked the media for their support to the company through throughout the year 2010, and asked that they continue to work together on a stronger level of relationship in the new year.
The Managers of Global Media Alliance Broadcast Company (GMABC) and Silverbird recalled some of their success stories in the past years, giving credit to the media for their support. They also shared with media executives their vision for the year and some up-coming events in the first quarter. Management said all is set to make this year's Happy FM's Mass Wedding a grand one by bringing together a record number of 40 couples.
According to the Executive Chairman, Edward Boateng, 'Global Media Alliance is committed to promoting media excellence in Africa and we will be working hand in hand with the media and other relevant stakeholders to set Ghana on top as the standard when it comes to professionalism of practice. "The media have a key role to play in Ghana and the continent's development. Therefore, we need to take ourselves seriously", he stressed.
"I seize this opportunity to wish you well in the New Year. Let's continue to strive for excellence. We have come a long way as a growing industry, but we still have a long way to go. Media is a powerful tool and we need not be reminded of our role in the development of our nation. Let's use this tool to heal and not to wound. This is the only way we can grow. Best wishes for 2011" said Mr. Edward Boateng.
Other Senior Executives present at the GMA Friends' Day include George Brun, John Osei Tutu Agyeman, Bismark Brown; Senior Managers of Y FM , etv Ghana, Happy FM respectively as well as Victoria Owusu, Acting General Manager of Silverbird Entertainment Ghana Limited. Rosemond Aryeetey, PR Manager, Edwin Amankwah, Head of Events, Charles Osei Asibey, Head of Internal Events and Brooke Nuwati, Corporate Communications Manager were also present.
--End--
Global Media Alliance Ghana Limited is a leading International Media and Entertainment Company that specialises in Media Consultancy, Public Relations, Events and Sports Management, TV, Radio and Newspaper. Its business brands include number one sports station and 2009 CIMG Award winner Happy 98.9FM, Y107.9FM, etv Ghana, Anigye 102.5FM in Kumasi and Silverbird Entertainment Ghana Limited which consists of a cinema, a lifestyle store and a game arcade all of which are located at the Accra Mall.
Global Media Alliance was founded in 1998 in South Africa by Edward Boateng. It has offices in Ghana, Nairobi, Lagos and Johannesburg. It is now heardquarted in Accra, Ghana
For more information, contact 0302 912 071-3 or [email protected]