Gonow donates to FAGRO Secretariat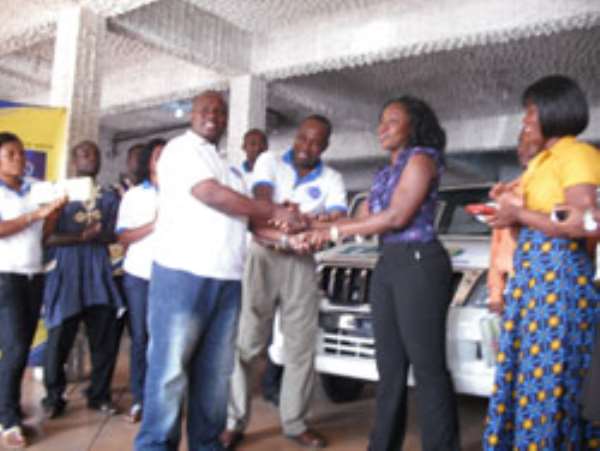 Dr. Harrison, President & CEO of Benand Gonow Ghana Ltd., presenting the car keys to Alberta Akorsah
Benand Gonow, one of the fastest growing automobile companies in the country, on Tuesday donated one of its Troy 4X4 double cabin pickup vehicles, worth $25,000, to the National Fair & Agricultural Show Secretariat in Accra.
The gesture, according to officials of the company, was to enhance the Secretariat's activities in the coming years.
President and Chief Executive Officer (CEO) of Benand Gonow Ghana Limited, Bishop Dr. Benjamin Arko Harrison, who presented the vehicle, said his outfit was inspired by the work of the FAGRO Secretariat in promoting agri-business in the country, hence the donation of one of their robust and all-purpose vehicles to the Secretariat.
'We are giving this pick-up, which is robust and beats all terrain, to the FAGRO Secretariat to enhance agri-business in the country,' said Dr. Harrison in his presentation.
Receiving the vehicle on behalf of the FAGRO Secretariat, Albeta Akosah thanked the management of Benand Gonow automobile for the gesture.
She gave the Secretariat's assurance to use the vehicle for its intended purposes.