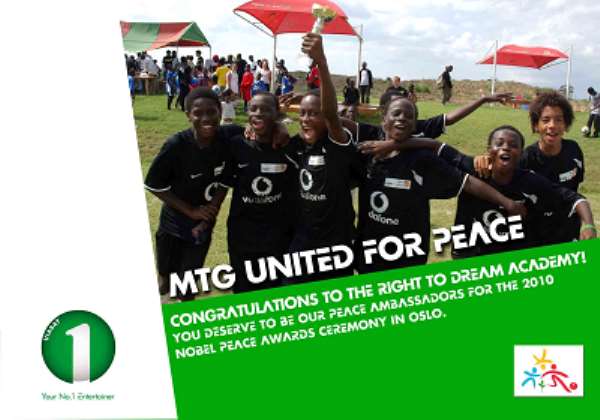 The under 14 team of the Right to Dream Football Academy has been named Peace Ambassadors in connection with this year's Nobel Peace Prize activities. The team came out tops at the recently held MTG United for Peace Tournament organized by Viasat 1. The Akrade Event saw six under-14 teams show extreme sportsmanship and skill in the 7-aside tournament, which saw the Right to Dream boys beat Fipacum FC by 3 goals to nil in the finals. Therefore, the boys from RTD are going to participate in MTG's international football tournament- MGT United for Peace, which aligns itself with the Nobel Peace Prize activities for this year. They will play teams from 21 other countries where MTG – Modern Times Group AB – has TV-stations. The main event will take place in Oslo on 16th October 2010.
The objective of this activity is to bring together children from all walks of life to get a better understanding of their cultural differences, the importance of tolerance and respect for one another through the game of football. Besides the football tournament, participating kids will be engaged in different educational activities held by the Nobel Peace Centre and Red Cross raising awareness of the importance of Peace and key elements behind the word Peace (tolerance, respect etc)
Participating teams included Fipacum FC who came in second place, Sparkles FC, Great Wonders FC and hosts Right to Dream Academy played amazing football to the delight of spectators.
Staff presented Viasat 1 branded souvenirs of footballs, t-shirts and baseball caps to all teams and a trophy to winning team Right to Dream Academy.
Right to Dream is a registered charity in Ghana, Sierra Leone, the UK and US. The Right to Dream Academy in Ghana is a non-profit making, fully residential international school which offers five year scholarships to children aged 11 and above. The Academy is focused on EVERY child achieving success and reaching their true potential, using the skills, knowledge and the experiences on offer, to build a better life for themselves, their families and their communities.
MTG's Viasat Broadcasting is the leading free-TV and pay-TV operator in Scandinavia and the Baltics, and has broadcasting operations in Bulgaria, Czech Republic, Hungary, Slovenia, Russia, Ukraine and Ghana. Viasat's free-TV and pay-TV channels and pay-TV platforms attract a total of 125 million viewers in 31 countries. MTG is the major shareholder in Russia's largest independent television broadcaster (CTC Media – Nasdaq: CTCM), and the number one commercial radio operator and internet retailer of entertainment products in the Nordic region.