Government to expand Takoradi Port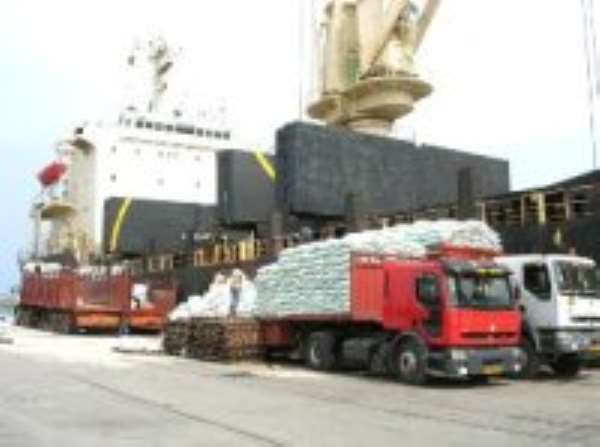 The discovery of oil and gas in the Tano Basin in the Western Region has presented many challenges to the authorities of the Takoradi Port, with the greatest being the non-availability of space.
In an attempt to unfailingly meet the maritime demands of the oil exploration and the production of gas in the country, the Government of Ghana, through the Ministry of Transport, has announced plans to expand the Takoradi Port.
The expansion project, which has been structured into short, medium and long-term phases, would include the provision of dedicated oil terminals, dry docks and adequacy of vessel handling equipment, among others.
Mike Hammah, Minister of Transport disclosed these at a stakeholders' forum on the proposed expansion of the Takoradi Port, which was organized by Ghana Ports and Harbours Authority (GPHA) in collaboration with the Ministry of Transport in Takoradi.
The forum was aimed at brainstorming and exchanging ideas to enable the ministry to craft a meaningful response for the required port facilities, which are expected to support the oil industry.
He noted that the Takoradi Port needed to be expanded due to its proximity to the Jubilee Oilfields, explaining that this situation made it an obvious choice for the shipment of oil and gas as well as project equipment.
He stressed that the ministry had a significant role to play in the successful exploitation of the oil and gas, stressing that "it was for this reason that the ministry and other stakeholders held a Transport Sector Conference in Accra last year for all the agencies."
Hon. Hammah said the conference provided the various transport agencies with the opportunity to understand the full extent of their respective roles in the oil and gas industry and actively prepare for the challenges ahead.
"The situation where services needed by oil companies are provided by existing oil services facilities in Ivory Coast cannot be allowed to persist forever," he lamented.
The minister added that the expected oil revenue would go a long way to support government's agenda of making life comfortable for all Ghanaians.
On his part, Nesta Persie Galley, Director General of GPHA, explained that ideally all the activities related to oil exploration and production such as storage of pipes and equipment should be located at one place, hence the decision to expand the Takoradi port.
He mentioned that it was important to get the stakeholders to agree on necessary measures to expand the port.
The Deputy Western Regional Minister, Betty Bosumtwi-Sam indicated that the employment generation aspects of the industry would come from the production, transportation and storage processes, as well as services such as banking, insurance, transport logistics and ware housing.