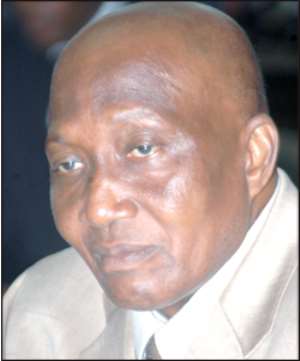 He is the Regional Minister for crying out loud! He chairs the Regional Security Council for Pete's sake. What else do we need to hear or see happen before we demand accountability?
This culture of 'forgiveness' without consequences should stop now. The Lord almighty forgives our sins when we ask for forgiveness but we still have to bear the consequences of our sin. Sin does not go unpunished! When King David sinned with that man's wife, the baby died even though he (David) was forgiven. He prayed and prayed asking God to spare the life of the baby but that did not happen. Opoku Manu knew exactly what he was saying. He was not drunk; neither was he asleep. The Bible says 'out of the abundance of the heart the mouth speaketh'. Another scripture quote is 'as the man thinketh, so is he'. This is what is in Opoku Manu's heart; that is how he thinks. He actually believes that political opponents should be beaten into silence. Somehow he is trying to tell us that the NDC never said anything against the NPP when the latter was in power; and if they did the NPP should have unleashed their 'goons' and 'foot soldiers' on the NDC. Is that the way we want to go as a country? Is this the way to build a meaningful democracy?
The more important point is this: how can he assure his political opponents of fairness? How can they trust him to be an honest broker should any matter of political violence come before him as the Chair of REGSEC? How does he ensure the safety and security of the very people he wants beaten up?
I believe he's lost the integrity required for a position as Regional Minister. He must resign or be made to. We were all witnesses to the many cases of intimidation and harassment of political opponents during and after the 2008 elections. The last thing we need in this country is for officials, who should know better, to be purveyors of violence and intimidation, themselves.
We cannot afford to perpetuate this culture. It must stop somewhere and we must start at some point. Maybe this may just be the perfect opportunity to start cleaning up our political environment and send a message to all public officials that being in a position of power does not put you above the law. In any ordinary and normal setting, don't the Police have a law against what Opoku did? Don't the Police charge people for inciting violence? And how is this any different? If in subsequent days, we hear reports of some NDC members attacking some NPP members, can anybody tell me why Opoku Manu should not be held responsible? And it does not even matter if the violence happened outside the region!!
So for me, resignation is a slap on the wrist. He should take it and leave. And yes his apology is accepted. And he's been forgiven too!! But he still needs to go. Go, Opoku Manu, Go!!
I believe the President is aware of the situation. We await his decision on this!
Development / Accra / Ghana / Africa / Modernghana.com