Uproar Over Sierra Leone Female Chief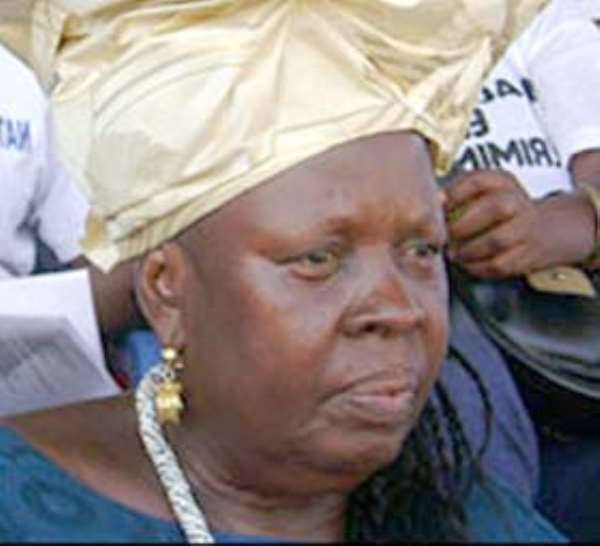 Elizabeth Simbiwa Sogbo-Tortu
Members of a Sierra Leone traditional group have besieged a woman's house and stopped her from going home after she launched a legal bid to become a chief.
was barred from an election to the chiefdom because she was a woman.
She lost an initial appeal against the ban - a ruling condemned by women's rights groups who are vowing to take her case to the Supreme Court.
A BBC correspondent says politicians are afraid of angering traditionalists.
The BBC's Umaru Fofana in Freetown says the politicians also do not want to antagonise women - making them afraid of the whole issue.
Women are barred from becoming chiefs in the Northern Province and most of the east but they are allowed in southern Sierra Leone.
'Unlawful and wrong'
Ms Sogbo-Tortu was protected by armed police, UN officials and women's rights campaigners when she tried to return to her home in the eastern Kono district on Monday.
But our reporter says the convoy had to turn around after they learnt that her house had been besieged and her supporters targeted.
Members of the Poro secret society then threw stones at the convoy in the town of Sewase 40km (25 miles) from the district capital Koidu despite the presence of the security forces.
Ms Sogbo-Tortu is from a family of chiefs and after her disqualification, her nephew was chosen to be the new chief of Niminyama.
"Ten of us were in the race including my nephews, and I was the only one denied the right to stand, despite being the eldest and coming from a ruling house," Ms Sogbo-Tortu told the BBC.
"I want the courts to rule that it is my right as a woman to become paramount chief in my home district. And this is not just about me. It is about all women all over the country."
She has now returned to the capital, Freetown.
Yasmine Jusu-Sheriff, vice-chair of the Human Rights Commission told the BBC that she would take the case to the Supreme Court.
"We think [the disqualification] is illegal and unlawful and wrong."
Our reporter says that the position of paramount chief remains extremely powerful in Sierra Leone.
He says they command huge respect and are able to mobilise large numbers of votes during elections.
The chiefs are elected by local councillors.