NPRA Outlines Timetable For Switchover To New Scheme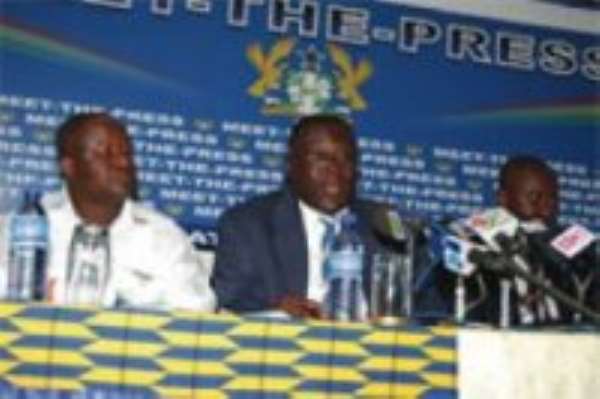 The National Pensions Regulatory Authority (NPRA) has outlined the time table for contributors of the Social Security and National Insurance Trust (SSNIT), the Cap 30 and other similar pension schemes to switch to the new Contributory Three-Tier Pension Scheme.
The Chairman of the NPRA, Mr Richard Kwame Asante, who gave out the timetable at the Meet-the-press in Accra yesterday, said workers would be informed about the guidelines for transitional arrangements for mandatory schemes (first and second tiers) this month.
The new scheme comprises two mandatory schemes and a voluntary scheme. A first-tier basic national social security scheme, which is mandatory for all employees in both the private and public sectors and optional for the self-employed, will pay only monthly pensions and related benefits such as survivors and invalidity benefits.
The second-tier mandatory occupational (or work-based) pension scheme will be privately managed and mainly pay lump sum benefits.
The third-tier voluntary provident fund and personal pension schemes will be supported by benefit incentives to provide additional funds for workers who want to make voluntary contributions to enhance their pension benefits.
Mr Asante said the Bank of Ghana (BoG) would open Temporary Pension Fund (TPF) accounts for the second-tier mandatory contributions. The management of the Board of Trustees which is to manage the TPF, would also be set up this month.
He said the implementation date for the mandatory scheme (first and second tiers) was January 1, 2010, while deductions of mandatory contributions would begin the same month.
He said a total of 18.5 per cent to be collected by SSNIT during the transitional period, pending licensing of trustees and registration of pension fund managers and custodians would also take place in January.
SSNIT would also lodge the total mandatory five per cent remittance to the second tier into the TPF account, with the BoG pending licensing of trustees and registration of pension fund managers and custodians.
Mr Asante said in February, there would be the transitional guidelines for registration of Provident Fund and Group Personal Pension Schemes, as well as guidelines on application for provisional approval as individual trustees.
Registration of Voluntary Provident Fund and Group Pension Schemes and approval in principle of Provident Fund comes off in March, while consultations on proposals for Basic National Social Security Scheme Regulations and Occupational and Personal Pension Schemes Regulations take place in April and May.
The issue of guidelines on licensing, scheme operations, investment and reporting requirements is in September, with licensing of trustees, registration of Pension Fund Managers and Custodians and approval of schemes and investment funds taking place in October.
And in November, the BoG would transfer balances from Temporary Fund Account into Occupational Pension Fund Account operated by approved trustees.