August 18, 2009
|
Projects & Developments
Accra-Tema motorway to be rehabilitated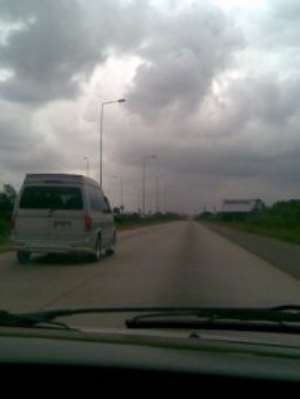 Rehabilitation works on portions of the Accra-Tema motorway will commence this Thursday at a cost of GHC500,000.
A special type of cement known as epoxy mortar cement, which has special additives and which is different from Portland cement, has been procured for the project.
Epoxy mortar cement is the type which dries within three days unlike Portland cement which dries in 28 days.
The Deputy Chief Executive of the Ghana Highway Authority (GHA), Mr Billy Donkor, who made this known,said during the rehabilitation exercise, the outer lane of the Tema-Accra portion of the motorway would be closed and speed limits would be imposed on drivers.
He announced that the rehabilitation, which would last for eight weeks , would involve the removal of the concrete slabs which lad developed potholes and their replacement, as well as repair of the bituminous surface on shoulders of the road.
Mr.Donkor said the potholes had developed as a result of vehicles exceeding the permissible axle-road weight and added that although an axle-load weighing weighing equipment had been installed at the Tema end of the motorway,some unscrupulous personnel of the GHA took bribes from truck drivers and allowed their overweight vehicles to cross.
He  pointed out that the time has come for proper rehabilitation of the road, adding that the motorway was not constructed to last this long but has served its purpose.
The best solution would have been to put asphalt on the surface at this time but that will cause a public forore.The public is against effecting any changes  to the projects made by Dr. Kwame Nkrumah, he stated.