Spio-Garbrah urges U.S. investors: Make Ghana your preferred destination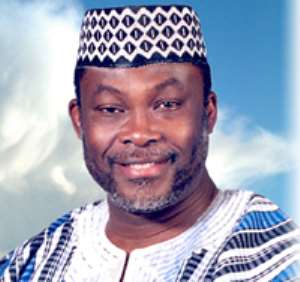 Dr Ekwow Spio-Garbrah

Dr. Ekwow Spio-Garbrah, CEO of the Commonwealth Telecommunications Organisation (CTO), has urged American investors to make Ghana their preferred business and tourism destination in Africa.
Spio-Garbrah was speaking at a reception held in his honour on August 12 in Washington DC by the prestigious U.S. law firm of Nixon Peabody, in collaboration with SATIG, an Africa investment advisory firm.
The reception was attended by executives and members of the Corporate Council on Africa, staff from the U.S. Congress, and officials from top firms as Delta Airlines, HSBC, Deloitte & Co, as well as African professionals working for various International Organizations based in Washington DC.
A former Ghanaian Ambassador to the USA, Spio-Garbrah noted that Ghana has come a long way since its independence in 1957, and has now become globally toasted as one of the most stable democratic countries in Africa.
He said that when the country's attributes are compared to other African countries, Ghana stood tall in terms of its overall investment climate and cited such factors as the quality of the country's human resources, the variety of its natural resources, the existence of financial intermediaries, the legal and judicial system, respect for private ownership of property, cost of labour, and reasonably reliable infrastructure.
"Ghana has chalked a lot of achievements and continues to hold great promise. The recent discovery of large oil and gas deposit in Ghana has made some potential investors even more excited about Ghana, but Ghana's investment attractiveness is due more to some other fundamentals, such as quality of the human resources and generally good governance," he said.
Drawing on his previous experience as a former investment promotion adviser to the governments of Indonesia, Netherlands and Turkey, Dr. Spio-Garbrah cited the visit of President Obama to Ghana last month as one of the best examples of why Ghana deserves the favourable appreciation of the U.S. business community.
He noted that the Ghana-USA relationship was all-encompassing and included positive trade and investment flows; increasing financial and capital markets transactions; educational, arts and cultural exchanges; military and law enforcement collaboration; scientific and technological partnerships; tourism; and thousands of inter-personal relationships, and the choice by several hundred thousand Ghanaians to make the U.S. their permanent home, and similar decisions by some hundreds of U.S. citizens to reside permanently in Ghana.
He stated that although the U.S.-Ghana trade had increased in both directions by about 40% in the last three years, Ghana still lagged behind the USA in terms of the value of its exports, and more needed to be done to boost Ghana's exports to the USA.
Spio-Garbrah therefore advised the august gathering that there was a considerable room for investing in the local processing of Ghanaian products for export to the United States. They included cocoa processing, textiles and read-to-wear garments, fruit and vegetable canning, real estate and construction, and jewelry-making.
The former Communication Minister cited Phyto-Ryker, a U.S pharmaceutical firm some of whose former executives attended the reception, as amongst the many U.S. companies he had encouraged to invest in Ghana during his tenure as Ambassador.
Ekwow Spio-Garbrah stated that the recent visit of the Obama family to the Cape Coast castle had helped to place a global spotlight on one of Ghana's unusual and under-exploited heritage of some 30 European-built slave forts and castles, which link Ghana directly to many African-American and Caribbean peoples in the diaspora. He suggested that the desire by most African Americans to connect with their ancestry and to find their roots offered Ghana an inestimable opportunity to promote its cultural tourism potential. However, it would require good coordination between several Ghanaian ministries, agencies, embassies, tour operators and travel agencies both in Ghana and the diaspora to make the most of this opportunity.
The former Ambassador informed the audience that confirmation had been received from Accra of the nomination of Mr. Daniel Ohene-Adjekum as the next Ambassador of Ghana to the USA. Dr. Spio-Garbrah described Mr Agyekum as a very experienced, determined and courageous man who had been Ambassador to neighbouring Canada in the past and also Ashanti regional minister, and who therefore understood very well how to make the most of the Ghana-USA relationship. He asked the Americans and Ghanaians in the audience to cooperate fully with him when he arrives to assume duty.

Turning to his current work as the CEO of a London-based inter-governmental organization focused on the use of information and communication technologies (ICTs) to promote development, Dr. Spio-Garbrah remarked that Ghana stood an exceptional chance of transforming itself into a knowledge society.
"In view of the strength of its educational system, the highly competitive telecoms market in the country, the imminent landing of additional submarine fibre-cable links in Ghana to make broadband more accessible and affordable, Ghana can very readily emulate the examples of countries such as Singapore and Malaysia in terms of their e-transformation," he said.
He asked Ghanaians in the USA with ICT backgrounds to engage with U.S. companies such as Verizon, Microsoft, Google, Hewlett Packard, Yahoo, Cisco and Oracle to take greater interest in Ghana and to assist the country to become an ICT haven in Africa.