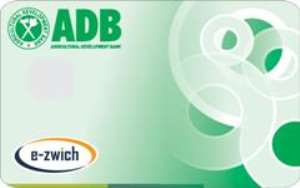 By Ato Keelson & William Beeko
There was a chaotic spectacle at the Kaneshie branch of the Agriculture Development Bank (ADB) when an appreciable number of civil servant workers last Friday 31 July 2009, went there to withdraw money only to be told bluntly by the bank officials that it was yet to receive payment of their July salaries from the Controller and Accountant General's Department, TODAY can authoritatively report.
Further, the workers alleged that it had been a deliberate strategy by the Kaneshie branch of ADB to hold up salaries of workers even when they had been paid. This, the workers hinted is done by the bank to compel them to apply for salary advance which come with extra charges.
When our reporters caught up with the Branch Manager, Mr Koranteng Addo and sought for his reaction in his office, he said …"I am not in a position to talk, stressing that "as a corporate entity there are structures and procedures that one has to follow before making any public pronouncement, and so I will refer you to the head office where the Public Relations Officer (PRO) can react to these issues."
However when the paper managed to get the Public Relations Officer (PRO) of the bank on phone, he declined to tell us his name, except to say that…. "Theses are allegations, and I can't react to them on phone and moreover I am not at the Kaneshie Branch and therefore not in a position to comment about it."
Last Friday's incident, which resulted in a riot amidst hot verbal exchanges, with some of the irritated workers cursing their stars for even banking with ADB, happened between the early hours of 8:45 a.m,-10 a.m..
The paper can confirm that the incident could have turned nasty if the irate civil servants had not been restrained by some customers of the bank who were in the banking hall to do business.
According to the charged workers who spoke to TODAY, they could not understand why most of their colleagues who saved with banks such as SG-SSB, Standard Chartered, Barclays Bank, Prudential Bank etc., had since last Monday been paid their July salaries, whilst they as at last Friday could not even tell when the bank will credit their accounts of their July salaries, when there was enough reason for them to believe that they had been paid.
"Our colleague civil servants some of who were saving with other banks including SG-SSB and Commercial Bank as at Monday 27 July 2009, had been paid their salaries, but those of us saving with the Kaneshie Branch of ADB were told by the bank authorities that they had not received our July salaries," furiously stated by one of the workers.
The paper gathered that what irked the workers most was when they had been told by some of their colleague civil servants saving with ADB branches in Teshie Nungua, Ringroad Circle and other places in Accra that their July salary had been credited into their accounts.
"Why would some branches of ADB in Accra credit the accounts of the July salaries of workers, but its branch in Kaneshie will tell workers that it had not receive the July salaries of workers? This indicates that they are up to something," one of workers queried.
The civil servant workers disclosed to TODAY that last Friday's incident was not the first of its kind and that over the past 8 months they having been experiencing the same problem, especially since the branch had a new manager.
"We are aware that the bank deliberately holds up our salaries, which compel some of us to go in for salary advance, to enable them make profits from us" an angry worker who spoke on condition of anonymity told our reporters.
Following the latest incident, many of the civil servant workers with the Kaneshie branch of ADB are threatening to close their accounts with the bank.
Their reason stems from the fact that the bank is not open and frank with them, so far as their salaries are concerned.
Another thing the workers complained about the bank was the issue of granting of loans. They maintained that hitherto loans applied by them were ready within two weeks, but at the moment the approval of loans takes several months.
"We now have to chase them for several months before ones' loan request is considered… Sir, (reporters) why should we be treated in this manner," many of the workers bemoaned.
SOURCE: TODAY NEWSPAPER