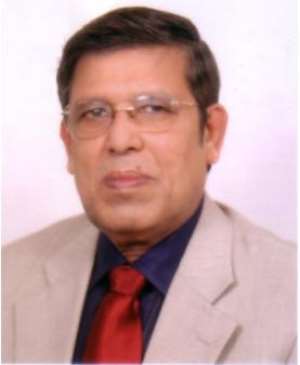 Vice Chancellor Dr. Abdul Mannan Chowdhury, Convener of Bangladesh Social and Historical Research Centre.
Western communities strictly believe that the number 13 is the symbol of misfortune and 7 is the symbol of fortune or good luck. Coincidently in the life the Bengalis, the number 7 has been clearly manifested as the symbol of good luck. Let starts with 1952. Everybody has little or more knowledge about this year. We get 7 from 52 (5+2=7). To speak the truth, the Bengalis cross the first step of liberation in '52. Then comes October 7, 1958. General Ayub Khan, Head of the Pakistan Army, took the power by imposing military rules all over the country on this day. Many people comment about 7 October as "the starting of the ending". Military governance of Gen. Ayub Khan kept the Bengalis in a hard to breathe condition and this situation contributed to flourish the thinking of the nation about the liberty and a country with sovereignty. During this humiliated regime of Ayub Khan, Subedar Monem Khan created the ultimate record of inhumanity. Then Ayub Khan started the so called democracy. One of the breath taking events from 1958 to 1966 is collision of Pakistan with India and another is armed force attack in Kashmir and western part war. Eastern part of Pakistan at that time was fully unprotected. Many scholars and political thinkers thought if Pakistan could capture some more parts of Kashmir in the 17 days war of 1965, they would have come to a resolution by handing over then East Pakistan to India. Another event is to present 6 point demands.
This six-point demands comprised of demand for democracy, demand for autonomy/self governance, proposal for running dual currency and dual central banking system, demand for controlling and using the foreign currency by the concerned region itself (i.e. East Pakistan would use and control the foreign currency which would be earned by the export of resources of East Pakistan). Proposals were also made in those demands regarding establishing the Headquarter of any one of the military forces in East Pakistan and creating a Para-Militia Force consisting of one hundred thousand soldiers. West Pakistan knew that the ultimate effect of those 6-point demands was the freedom of the East Pakistan. As a result they stepped for uprooting the six-point demands. They wanted to divide in the party of Bangabandhu Sheikh Mujibur Rahman and thus they tried to make all efforts go in vein. Even they started a propaganda that those demands were a part of CIA plan and those were against the expectations of the industrious people, farmers and laborers of East Pakistan. In spite of having so many uneven conditions Sheikh Mujib did not become hopeless. Ayub Khan and Monem found out their way for oppressing Sheikh Mujib. Subedar Monem declared that Sheikh Mujib would be in jail as long as he (Monem) would be in power.
At the first of 1966, 6-points demand was declared. After returning in Dhaka, Sheikh Mujib got approval for the 6-points demand from the party congress declaring it as "Amader Bachar Daabi (Demands of living)". From that day Pakistan Government started oppressing the Bengalis in the form of more exploitation, repeatedly arresting and jailing the people of East Pakistan. They pulled their steam roller of oppression and inhumanity throughout the country. Sheikh Mujib became stricter on the demands. But a fear attacked the people. Sheikh Mujib clearly portrayed the discrimination between east and west part of Pakistan through a story. This was as follows:
"A father had two sons. One was fool and another was shrewd and cunning. Before he died he left a blanket, a cow and a date-palm for his two sons and wanted to have distributed them equally. After the death of their father, the shrewd and cunning brother distributed them in such a way that foolish brother in his part had the front side of the cow, forepart of the date-palm and the right to keep the blanket in day-light". As a result the foolish brother got no drop of milk, no date-juice at all and had no utility of the blanket in cool winter night. The days were passing away and the foolish brother was gradually becoming clever. He demanded his proper portion to his shrewd and cunning brother. But he failed to get any benefit. Then he started to teach his brother a good lesson. At first he tied the mouth of the cow, then he spread barbs around the forepart of the date-palm and at last he watered the blanket in day-light till evening". Saying "What didn't happen after that" Sheikh Mujib used to tell "let us see what will happen".
When the entire country woke up and people becoming rebellious against the discrimination, the central and provincial government permanently jail Sheikh Mujibur on May 1966. At the same time, many leaders and workers of all levels of Awami League were being arrested and throwing into jail. Staying at jail Sheikh Mujib ordered the students and young leaders to continue their movement. After taking all preparation, hartal was declared throughout the country on 7 June. Though huge students were involved in this movement, participation from the young leaders and the leaders of the workers was very much limited. In fact, the leaders who controlled the workers movement were in favor of Ayub Khan and against the 6-points demand. But when a worker who threw challenge, was shot in broad day-light, the workers of Tejgaon burst for movement. Thousands of students and workers started movement and halted the country. Nobody saw this type of hartal ever before in this country. That day throughout the country at least 11 workers including Munu Mia and Abul were killed. In the same day attempt was taken to arrest and kill the rebellious people in many parts of the country. In the afternoon of that day, leaders of students took final decision at Kurzon Hall for liberation. In fact, another 7 helped the nation to proceed one step ahead for our liberation. Awami League secured the highest seats in the election of 7 December, Bangabandhu Sheikh Mujib delivered his liberal speech on 7 March, 1971, he declared the independence of Bangladesh on 25 March (sum of digits of 25 is 7) and finally we have secured our victory on 16 December 1971 (sum of digits of 16 is 7). It seems that these all are puzzles of the digit 7. But it is a matter of regret that very few people are aware of it.

Vice Chancellor Dr. Abdul Mannan Chowdhury
Convener, Bangladesh Social and Historical Research Centre
Email: [email protected]
Read the Article "7th June 1966: the Day of Ultimate Decision for Independence. PDF" by Bengali:
http://www.wub.edu/Seventh%20June%201966-21.pdf (Click Here)
About the Author Dr. Abdul Mannan Choudhury:
Professor Dr. Abdul Mannan Choudhury is an alternative name of "Live defender" served in University of Dhaka as a professor for 37 years. Professor Choudhury was born in a successful family in Comilla district of Bangladesh. He also served Bayero University, Nigeria as Head of Department, Academic Dean and Syndicate Member. He was the Proctor of Dhaka University, Syndicate Member of Dhaka University, Member of Finance Committee, Founder Director of Evening MBA study, Founder Chairman of Department of MIS, Founder Chairman of National Management Association, Bangladesh Commerce Education Society and Founder Chairman of a Government Bank of Bangladesh. He is also an excellent writer and columnist. Dr. Choudhury was a freedom fighter too. He was the Assistant Commander (and was commander for few months) of Mujib Bahini (Bangladesh Liberation Force) of eastern side of Bangladesh in the 1971 Liberation War of Bangladesh. He was also involved in six point movements in 1966 and eleven points' movements in 1969. At present, Professor Dr. Abdul Mannan Choudhury is serving as Honorable Vice Chancellor in World University of Bangladesh. It's one of the most popular and leading universities in Bangladesh. He is idea maker of "Utilitarian Education" for Economic Emancipation in Bangladesh. Present government of Bangladesh has formed a seven member advisory board for the National Freedom Fighters' Council (NFFC) with Prime Minister Sheikh Hasina and Professor Choudhury is also present Advisor of Freedom Fighters' Advisory Council and it's formed with the Prime Minister Sheikh Hasina as its chief. He is also Convener of Bangladesh Social and Historical Research Centre.