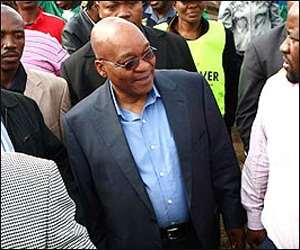 ANC leader Jacob Zuma Votes were still being counted Friday in South Africa's parliamentary elections, but the ruling African National Congress was already celebrating what party officials predicted will be a crushing victory.
Presumed president-to-be Jacob Zuma -- an ethnic Zulu whose flamboyant style sits in contrast to more staid predecessors Nelson Mandela and Thabo Mbeki -- led a raucous rally in Johannesburg Thursday, telling thousands of cheering supporters the ANC will outstrip its goal of two-thirds control in parliament.
"The ANC will never go above 60 percent -- that's what they were saying," Zuma said. "The counting is still continuing and I smell 70 percent."
Members of parliament -- in which the ANC is virtually assured of having a majority -- will elect the president next month.
Results of the Wednesday vote in South Africa, where there are 23 million registered voters and all votes are counted by hand, are expected by Saturday at the earliest -- although elections officials hope to have a preliminary tally before then.
The ANC has dominated South African politics since its first democratic election in 1994. But Congress of the People, a breakaway faction of the ANC, and opposition party Democratic Alliance hoped to pull enough support to bring the ANC below two-thirds.
The ANC has been dogged by allegations of corruption and has been accused of failing to deliver services to the poor.
Zuma, until recently, faced fraud and corruption charges. The country's prosecuting authority dropped the charges two weeks before the elections, citing alleged political interference in the case.
Twenty-six parties ran in Wednesday's election. They included Islamic and Christian parties, and right-wing Afrikaaner and socialist groups.
More than 5,000 domestic and international observers are monitoring the election, according to the electoral commission. iReporter visits the polls
A self-described "farm boy" known to don traditional garb -- including leopard skins and a spear -- at ceremonial events, Zuma, 67, would put a different face on the party than Mandela, the attorney imprisoned under segregationist Apartheid rule, and the Western-educated Mbeki. Learn more about some of South Africa's political parties