New wave of Somali pirate attacks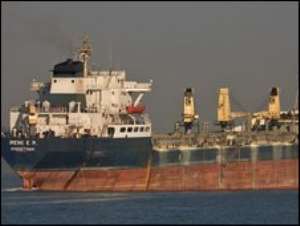 Somali pirates have hijacked a fourth vessel in 48 hours, seizing a Lebanese-owned cargo ship.
The 5,000-tonne Togo-flagged MV Sea Horse was taken by gunmen in up to four skiffs, Nato officials said.
Earlier, pirates hijacked a Greek-owned bulk carrier, the MV Irene, in the Gulf of Aden. On Monday, Somali raiders captured two Egyptian fishing boats.
Analysts say the gangs are clearly not put off by recent US and French hostage rescues that left several bandits dead.
Somali pirate leaders - who have generally treated captives well in the hope of winning big ransom payouts - vowed on Monday to avenge the deaths.
Attacks rise
Nato officials said another ship - the Liberian-flagged Safmarine Asia - escaped on Tuesday after coming under fire from pirates in several small boats.
After a lull earlier this year, the gangs have stepped up their attacks off Somalia's coast in recent weeks.
The 22 Filipino crew of the MV Irene, which was sailing from the Middle East to South Asia, are believed to be unhurt.
A Nato helicopter has reportedly been dispatched from a Canadian warship to investigate what is happening to the merchant vessel, flagged in Saint-Vincent and the Grenadines.
Nato Lt Cdr Alexandre Fernandes told Reuters news agency: "There was only three minutes between the alarm and the hijack.
"They attacked at night, which was very unusual. They were using the moonlight as it's still quite bright."
Hours later, Nato officials on a Portuguese warship announced the MV Sea Horse had also been seized off Somalia.
It is said to be the tenth hijacking in the Gulf of Aden and Indian Ocean since the start of the month.
Last Wednesday, a group of Somali pirates attempted to seize a US-flagged ship, the Maersk Alabama, but fled after taking its American captain hostage.
But following a stand-off with a US warship, three of the raiders were killed by three single shots from US snipers on Sunday and the skipper was freed.
US President Barack Obama promised on Monday to "halt the rise of piracy" in one of the world's busiest shipping lanes.
Last Friday French forces killed two pirates and captured three more while freeing a yacht with five hostages, but the vessel's owner also died in the gunfight.
Shipping companies last year handed over about $80m (£54m) in ransom payments to Somali pirates.
The Horn of Africa nation has been without an effective government since 1991, fuelling the lawlessness which has allowed the pirates to thrive.
Efforts to stop the raiders have so far had only limited success, with international naval patrols struggling to cover the vast areas of ocean where the gangs operate.