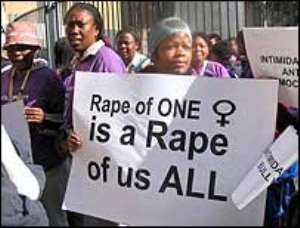 According to Action Aid, Cape Town support groups report about 10 corrective rape cases a week. Corrective rape is where men are raping lesbians in hopes to cure them of their sexual orientation. Most of these brutal attacks are being reported from towns like Johannesburg and Cape Town, where the rape crime is immensely high. Despite these massive reporting, victims cries for help still seem to fall on deaf ears. Statics show that 24 out of every 25 reported men walk free due to the fact that the African government does not recognize hate crimes as a crime. It is because of issues like these that Africa has turned into the rape capital of the world, where a quarter of all women are being raped by the age of 16.
It is a shame that South Africa is one of the most democratic countries in the world when it comes to equality between lesbians and gays, but what does that matter when they are not provided the protection needed to save lives. If you give them the right to love whomever they choose but deny them of their constitutional rights to live, then what has been accomplished?
Consciously turning your back on your citizens at a time such as these is a crime within itself. Allowing women to be have forced heterosexual acts bestowed upon them and not taking action only shows that there is a major problem within the court system. Something must be done. These are not just rape crimes; these are hate crimes as well.
We must make a stand against this act of sexual violence. Here are a few accounts to make this issue a little more realistic for you.
Nonhlanhla Zwane reported that her 13 year old twin daughters were gang raped because her sexual preference. She also stated that the rapist told her daughters "we just wanted to show you that you don't have to be like your mother" one of the twins committed suicide shortly thereafter.
Advertisement
Sizakele Sigasa was a lesbian activist and outreach worker with the Positive Women's Network who was found dead with her friend. Her hands were tied behind her back with her pants and her ankles tied together by her shoelaces with three bullets to the head and to the collarbone.
Simangele Nhlapho along with her two year old daughter were raped and murdered; her daughters legs were broken as well.
Madoe Mafubedu who was 16 at the time was raped and stabbed repeatedly until she died.
No woman regardless of sexual orientation should fall victim to this grotesque and inhumane acts of hate.
We URGE you to be a face in the race against hate. Please show that you do not tolerate such crimes against humanity by signing the petition sponsored by Uzima Collective. Uzima Collective is seeking to get 100,000 signatures to send to the new South African president as the first measure to bring world-wide recognition to the victims of South Africa. Please sign the petition at http://www.thepetitionsite.com/1/becauseofwhoIam.
Thank you,
The Uzima Collective Family
http://uzimacollective.ning.com